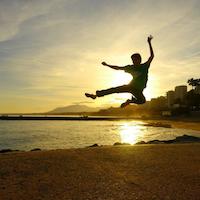 Filed by Mitchell Friedman

|

Apr 05, 2017 @ 11:15am
Despite proposing a budget that would savage the organization to the tune of $1.5 billion, President Donald Trump sent Sean Spicer to deliver $78,833 of his salary as a "gift" to a National Park Service representative with a straight face.
Sean Spicer held it together fine, because he has a lot of practice.
But Tyrone Brandyburg, the superintendent at Harpers Ferry National Historic Park, couldn't quite maintain a look of joy for the entire half hour-long ceremony.
President Trump has promised to donate his presidential salary while he's in office, and the $78,333 figure represents his paycheck for his first few months.
But donating to the Park Service is an interesting choice, considering Donald Trump notoriously feuded with the department over sizes of his inauguration crowd. There's also the aforementioned $1.5 billion he wants to cut from the Interior Department, which includes the Park Service. That's about 12 percent of the department budget, according to NPR, and 70K doesn't quite make up for.
Twitter thought the park ranger's un-amused face was the perfect caper to all that meaty irony.
Hahahaha. I almost lost my shit when I saw this. This park ranger sums up Americas last few months in a single look. 😂 https://t.co/bOvji05KqS

— Brocke Addison (@AddBrocke) April 5, 2017
Inside his head, you can literally hear this Park Ranger thinking:

'Trump is such an asshat. Only 6 more months until his impeachment.' https://t.co/XdGTqSZLXp

— Lars Hurst (@larshurst) April 5, 2017
Park ranger getting tiny PR stunt check from Trump after $1.5B cuts to the dept of the interior is 100% certified memeworthy pic.twitter.com/I6ToyiTQ8z

— Mike Cavalier (@mikecavalier) April 4, 2017
No matter what happens, we'll always have memes.