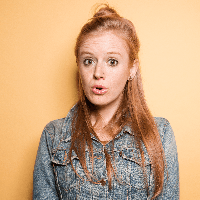 Filed by may wilkerson

|

Jun 12, 2017 @ 3:00pm
Today, on the one-year anniversary of the devastating attack at the Pulse nightclub in Orlando, president Donald Trump shared this uncharacteristically solemn, not-about-him tweet "honoring" the victims:
What's shocking about this tweet is that it's... presidential, as a few people have pointed out.
But here's the problem: a year ago today, Trump responded to the shooting on Twitter by using the tragedy to push his political agenda, and even patting himself on the back for being "right" about Islamic terrorism.
It was a shady, transparent, self-serving, insensitive, classic Donald Trump tweet. And Twitter, also, will "NEVER FORGET":
Many others are calling Trump out for pretending to give a damn about the lives of LGBTQ people, given his atrocious record on LGBTQ rights.
This tweetstorm pretty much says it all:
How has no one mentioned Secretary of Homophobia Mike Pence yet???
Whoop, there it is:
Others pointed out Trump probably didn't write this most recent tweet, which would explain why it seems like a president wrote it.
Donald Trump, please, please, please, sashay away.