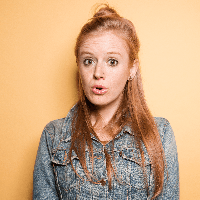 Filed by may wilkerson

|

Jan 13, 2017 @ 1:00pm
Speaker of the House Paul Ryan proved that he knows what "dabbing" is by doing the (once-)popular dance move on CNN last night. And Twitter responded with all of the groans.
ICYMI: last week, Ryan proved himself to be America's fun-hating dad when he called out a congressman's son on stage for "dabbing" during a photo. You can watch the whole weird incident here:
"Were you going to sneeze? Is that it?" Ryan asked the teen, making it seem like he didn't know what dabbing is. OK.
We all hoped that this would be the last time we ever had to hear "Paul Ryan" and "dabbing" in the same sentence. But nope, sorry! Last night at a CNN-sponsored Town Hall in DC, Ryan said: "I actually do know what a dab is for the record," adding that the kid "looked like he was sneezing."
Then to really prove to America that he knows what dabbing is, as if anyone cared, he performed the dance move himself:
As a result, Twitter has confirmed, dabbing aka "the dab" is now dead.
"I do know what a dab is." -- Paul Ryan.

Well, we had a good run.

— Chris Cillizza (@CillizzaCNN) January 13, 2017
Paul Ryan just dabbed.

The dab is now the singularly most offensive gesture I've ever seen. Please retire it.

Right now.#RyanTownHall

— Jay Dav-O (@ChocnessMonsta) January 13, 2017
Paul Ryan: I want to eliminate government benefits and let immigrants take your jobs. But look, I can dab!

— Scott Greer (@ScottMGreer) January 13, 2017
ME: Congress should have their heads put on a fucking pike for taking away people's healthcare

PAUL RYAN: haha yoooo fam check out this dab pic.twitter.com/7sNSuX5aFe

— FacePaulm Revere🌹 (@facepaulmrevere) January 13, 2017
Paul Ryan dabbing sent me into early menopause.

— Janelle James (@janellejcomic) January 13, 2017
Why are these politicians dabbing like it just became a thing last week?

— Jon Favreau (@jonfavs) January 13, 2017
please make the members of congress stop dabbing

— Rosie Gray (@RosieGray) January 13, 2017
Or maybe it was already dead?
Either way, it's for sure over now. Along with our health insurance.
So Paul Ryan killed healthcare & the dab in one week.
Happy Friday the 13th.

— Laurie Crosswell 🌞 (@lauriecrosswell) January 13, 2017
From context I assume 'dabbing' is a way to tell a dying person you are taking away their health care w/out having to look them in the face. pic.twitter.com/kGnZtBGsh8

— Elliott Lusztig (@ezlusztig) January 13, 2017
RIP the dab/America.