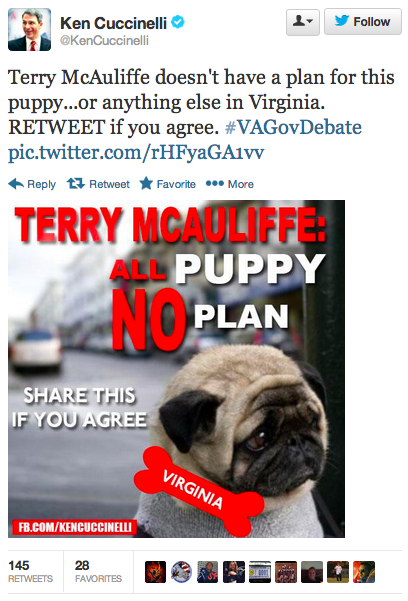 Virginia is for lovers and pugs who have no f***ing clue what this is supposed to mean.
(via Christopher Michel on Flickr)
Ken Cuccinelli is running for Governor in Virginia on the Republican ticket, and this is his idea of a good campaign ad. Don't worry if you can't understand it, neither could anyone who saw it last night (especially the guy he stole that photo from). Here's a small selection of the responses to Cuccinelli's Twitter post: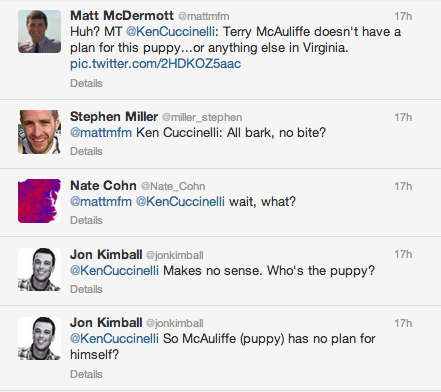 One other point: calling your opponent "all puppy" doesn't make them less likeable.
But wait, there's more! Like an inexperienced blogging intern, Cuccinelli's campaign just decided to steal Flickr photos from some random guy (Christopher Michel) without even so much as a h/t (hat tip). This isn't that unusual; pretty much every 4 years the GOP tries to use famous rock and roll songs at their rallies before the artist hears about it and stops them. However, it does look a little worse because he's the Attorney General, i.e. the highest-ranking law enforcement official in the state.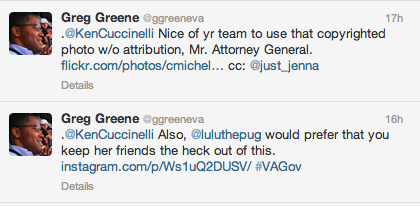 If someone hasn't made a Lulu The Pug For Governor site yet, I will lose faith in the Internet. 
There is an explanation for this ad, if you can really call it an explanation: during their last debate, McAuliffe gave a wishy-washy answer about his goals being "creating jobs and diversifying the economy." As normal-person standards go, that's a very vague and evasive answer. In politics, it's about a 4 out of 10 on the nonsense scale. Cuccinelli wasn't about to let that slide:
"Cuccinelli pounced on the apparent lack of focus. "I like puppies," Cuccinelli said.
"But I don't bring a puppy home if I don't have a plan to take care of that puppy."
McAuliffe, he said, is "all puppy, no plans." The response elicited giggles—one of
the few crowd reactions of the night." (via TIME)
There you have it, folks. He got giggles, and he needed to keep that gigglementum moving, so he turned that one zinger from the end of that one (of three) debates that not very many people probably watched, and made it a new slogan. Political genius.
Wanna hear some other genius ideas from Ken Cuccinelli? He hates sodomy and thinks it should be illegal. I know, youre saying "wow, thinking gay people should be prosecuted for sex? That's some 1950s sh*t right there." No, no, no, no. He's not just against the gays (he's still way against them, just not only them). He thinks straight folks should be prosecuted for oral and anal sex as well, because they are also sodomy, technically speaking. If he had his way, the only legal fooling around would be putting your Ken in your wife's Cuccinelli. No word on how he feels about handies, but they're dangerously close to masturbation, which I'm guessing is a no-no. He also compared himself to MLK for fighting contraception.
Lulu for Governor!!!!!
(by Johnny McNulty)