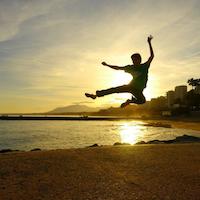 Filed by Mitchell Friedman

|

Jun 13, 2017 @ 8:30am
Donald Trump is taking any support he can get right now.
On Tuesday, Donald Trump opened Twitter and tweeted a couple thoughts—nothing shocking—a little "Fake News" here, a little "TRAVEL BAN" there, and then he retweeted a random woman named Corryn.
Liberals have an agenda and it's not in America's best interest. Keep fighting the good fight! We stand with you President Trump!
When Trump isn't retweeting random teenagers, President Trump's retweets usually focus on fellow conservatives with the blue "verified" check mark next to their names. So you're forgiven for wondering just who this "Corryn" is and why her tweet just got entered into what might soon be considered official presidential record.
So you're now retweeting illogical brown-nosing by random Twitter followers? Wow, a new low.

— Douglas Leach (@DamnRebel97) June 13, 2017
lol, whatever twitter bot.

— Levi Burton (@levidburton) June 13, 2017
He's retweeting bots! Haha is that all ya got left?

— Jen (@corki4) June 13, 2017
Corryn doesn't offer a lot of biographical information on her Twitter page, but she's got 27,000 followers and she tweets—a lot. She wants to make America Great Again, and she's a go-to example whenever a news site needs a conservative tweet to support a trending topic.
The Daily Caller, Decider, and People have all embedded her tweets in articles, for such varied topics as Trump's Easter plans, Mike Pence's extremism with women, and Bill Nye's "butt stuff."
The "Billy Graham rule" -never be alone with a woman not even in an elevator. I respect Mike Pence for doing his part to guard his marriage.

— Corryn 🇺🇸 (@Corrynmb) March 30, 2017
Bill Nye lost all credibility presenting "scientific" proof that biological gender doesn't exist w/ this sexual spectrum light show for kids pic.twitter.com/CqYBgcc8Dy

— Corryn 🇺🇸 (@Corrynmb) April 26, 2017
As far as Someecards can tell, Corryn Mobley has written for a site called "The Conservative Savage," but she's not a TV personality, a conservative politician, or a particularly well-known voice.
But she's grinding out tweets and she's a #Make America Great Again supporter—and that makes her a woman after the president's own heart.
Here's a sampling of some of her tweets:
It's actually kind of cool.
If you love Donald Trump, and you worship him enough on the internet, you might one day get retweeted the President of the United States. Then you'll have your internet presence poured over by millions of Americans and people around the world wondering who the f*ck you are.
And isn't that just the purest version of the American Dream you've ever heard?