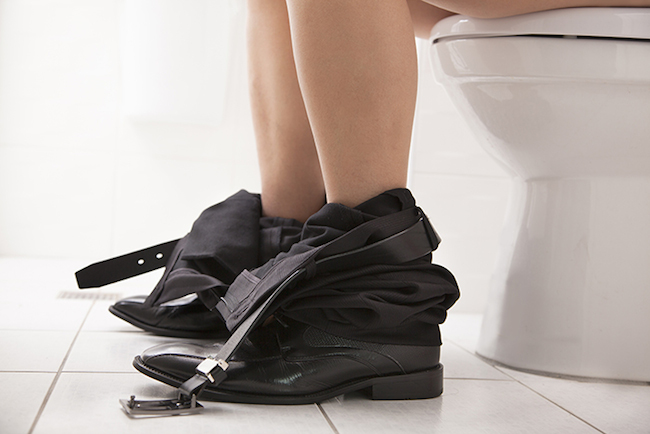 Nice technique!  (via)
There's a sub on Reddit called r/TIFU, which stands for "today I fucked up." It's a place for people to unload embarrassing stories about themselves. The board is full of embarrassing sexual encounters, social awkwardness and tons of drunken misadventures. As you'd expect, regular readers of the posts aren't shocked by much. But yesterday, redditor jaydogsmith posted a confession titled "TIFU by using a toilet wrong my entire life" that left some of most jaded people on the planet scratching their heads.
Now you're wondering how wrong could a guy be about using the toilet? Very wrong, it turns out.
"So I'm hoping a load of people are going to come out in support of me here but I've got that sinking feeling I may be alone in this.

Our toilet broke so I was in shopping for new ones and the sales person joked (no doubt for the millionth time) that I'll want one that automatically puts the seat down after I'm finished with it. I 'joked' back and said if I didn't have a wife I could save money and not buy one with a seat and I'd never have to hear women complaining about putting it down again. To which he gave me a strange look and said "but what about when you need to poop?". I naturally pointed out that I'm a guy and therefore don't put the seat down, I sit on the rim of the bowl. Several embarrassing moments later, I realize that I've misunderstood my entire life and that guys do indeed use the toilet seat. I left empty handed and red faced.

Thinking about it now, it makes sense. Especially how men's restrooms have seats. But I just assumed it was a unisex/cost saving/oversight deal."
As traumatic as it must have been for jaydogsmith to discover he'd been defecating wrong his entire life, at least now he can enjoy a decent crap like a civilized adult.
(by Jonathan Corbett)