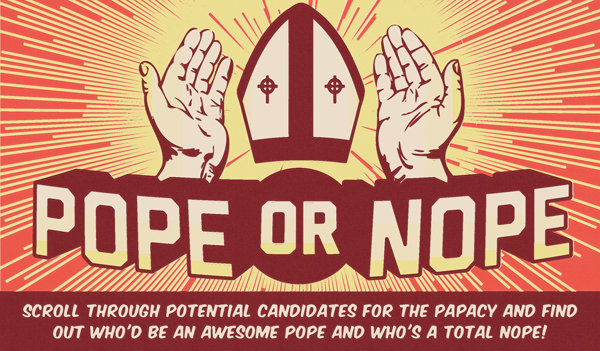 1. CARDINAL ANGELO SCOLA
Pros:
The favorite choice of Pope Benedict. Already lives in Italy so the Vatican won't have to pay relocation fees. At a youthful 71, he can definitely handle the rigors of the job for a few more years.
Cons: In 2004, he started a foundation to create dialogue between Christians and Muslims, which doesn't sound very Catholic to us.
2. CARDINAL PETER TURKSON
Pros:
As the first black pope, he could do for the Catholic Church what Obama did for America: make it seem less racist.
Cons: It would be so boring to listen to people talk endlessly about what it means to have a black pope.
3. BONO
Pros:
 Pope Bono has a nice ring to it. Lots of credibility in Pope-y areas like poverty in Africa. Could probably whip up some less-depressing hymns. Already thinks he has direct line to God.
Cons:
 Might be difficult getting Irish Catholics to put him a step below God.
4. HILLARY CLINTON
Pros:
She has lots of experience internationally, and she's obviously very good at forgiveness.
Cons:
People would only want to talk about how her hair looks in a zucchetto.
5. MEL GIBSON
Pros: Strong faith, good at making propaganda films, handy in a post-apocalyptic world.
Cons:
Actually believes all the stupid parts of Catholicism. Gets racist when he's had too much Jesus blood. 50% chance he'll 
cause
 the apocalypse.
6. RICK SANTORUM
Pros: Right beliefs, pleasant demeanor, can be relied upon to wage the noble war on condoms.
Cons: Two words: "Sweater Vestments."
7. MANTI TE'O
Pros: Great at having relationship with distant and invisible entities.
Cons: 
Might abuse papal twitter account and start millions of fake online relationships.
8. HONEY BOO BOO
Pros:
Thick accent means more icky parts of Catholicism won't be understood by anyone. Comfortable with being a spectacle. Pageant training will come in handy for waving duties. 
Cons: Turning Pope's life into reality show might further confuse whether we're supposed to be laughing with or at the Catholic Church.