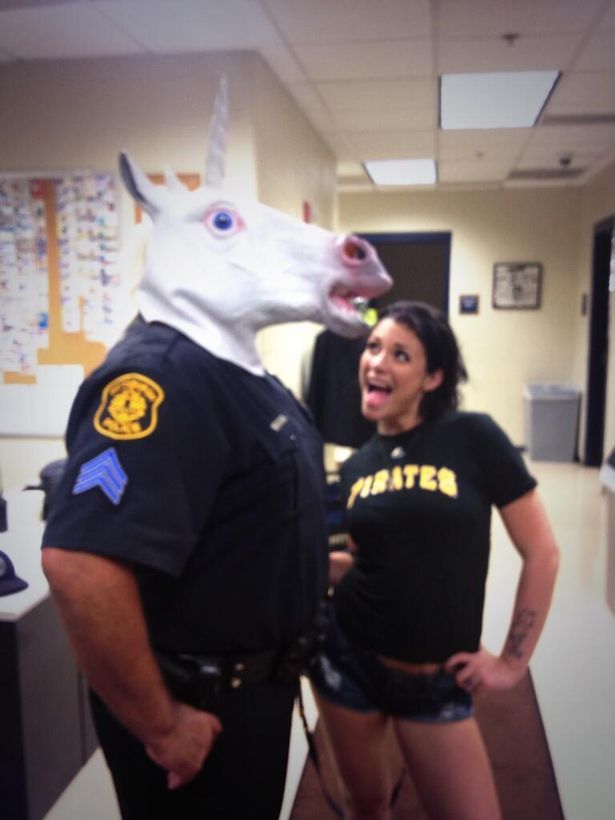 Laugh now, people. Officer Horny may well have a great career ahead of him.
Besides being a porn star, Andy San Dimas is part of The Unicorn Army, a group bravely taking pictures of themselves wearing unicorn masks in funny places. This weekend, Andy's brave efforts in the service of TUA extended to going to a baseball game and drunkenly doing dances in the aisle (video) until she was forced to leave. She did so calmly, except for yelling "Oh, I'm sorry! I was trying to have a good time at the f**king Pirates game!"—which is fair.
This is not something I would mind, and by the looks of things, neither do the members (no pun intended) of the Pittsburgh PD. According to San Dimas and her manager, when she arrived at the station, the officers "asked if they could put it on and take pictures with it. Everybody was just having fun with it, thought it was funny." 
It's possible they were also star-struck by seeing their favorite star their wives don't know about in the (clothed) flesh, because one of them couldn't resist getting (forehead) horny right then and there. It's probably just a coincidence that this also let him take a picture his wife won't recognize him in with his favorite star his wife doesn't know about.
San Dimas and her manager, Stevie Hughes, posted the photo to Instagram along with the rest of her unicorn adventures that day, although they took down the officer's photo after it became clear his superiors were upset. Said Hughes, "we took (the picture) down because we don't want him to get in any trouble, because there's no reason he should be in trouble."
Pittsburgh Police Chief Regina McDonald, whose name sounds like the stuff of a Catholic schoolchild's nightmare, said that they "are aware of the photos on the Internet and are currently investigating the incident. At this time we have not identified the individual or the circumstances surrounding this photo."
Now, if we could only get that sort of no-nonsense attitude when police are caught on camera doing things that are actually bad.
(by Johnny McNulty)