15-year-old Utah high school student Gabi Finlayson was forced to shuffle around her school's dance in a winter coat like a bird lady because her dress was "too inappropriate."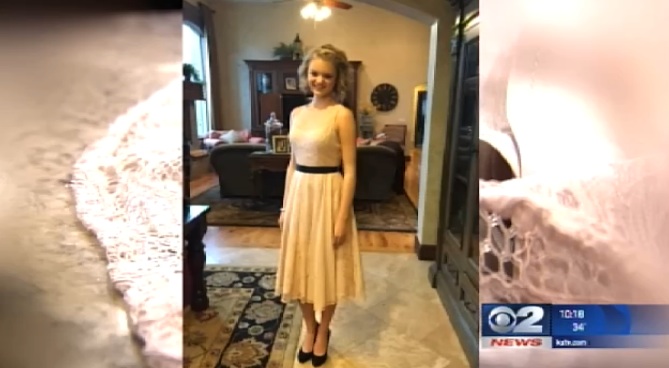 NSFW (Utah only)
(via KUTV)
Don't go to a school dance in Lone Peak, Utah without your shoulders fully covered, or you may become guilty of driving a teenage boy to erectile madness.
Apparently, the school's guidelines for dressing had been developed from a "community standard," and that all the students were made aware of them ahead of time.
Dresses must have a 2" minimum for their straps and the backs are not allowed to go below the shoulder blade. Cleavage covered.
Gabi says she was aware of the guidelines, and even altered the dress she bought in Paris to ensure that she was following them.
Nevertheless, when she entered the dance, she was told she would need to wear a shawl or coat to cover her shoulders up. Gabi was too embarrassed to make a scene about it, so she got her winter coat from her car and wore that for the rest of the night.
But, she was rightfully pissed.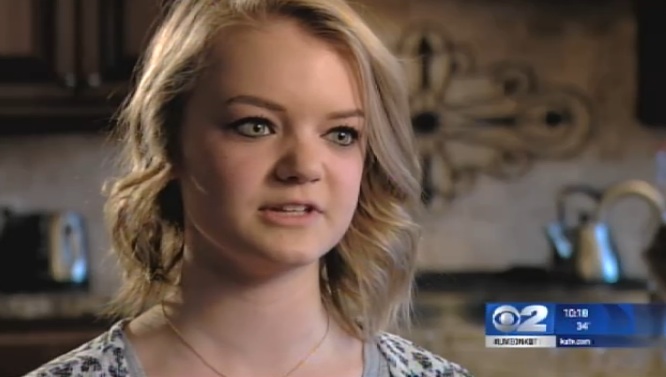 Not my penis, not my problem. (via KUTV)
"Somehow my shoulders are sexualized," Finlayson told KUTV. "Like it's my responsibility to make sure the boys' thoughts are not unclean."
I pity anyone tasked with making sure boy's thoughts are not unclean. Tell the girls they need to have 2" straps all you want, but teenage boys can get turned on by stuffed horses.
Adding to the insult, only 4 out of the 1200 students in attendance were asked to cover up, and seemingly at random.
"There were a lot of dresses that were very short, very tight, a lot more exposing or revealing than mine."

That's bullshit. Either everyone wears a sleeping bag to the dance, or no one does.
Mom was pissed, too.
"Maybe instead of teaching girls they should cover themselves up, we should be teaching boys that we're not just sex objects that you can look at and derive pleasure," said Finlayson's mom, Kristy Kimball.
Bravo, lady. Modesty is a state of mind.
The whole thing is steeped deep in irony, as this all happened at the school's "preference dance," which is when the girls get to ask the guys out, instead of the other way around.
Apparently, the only choice these girls are entitled to make is which boy they prefer to prevent from getting turned on.