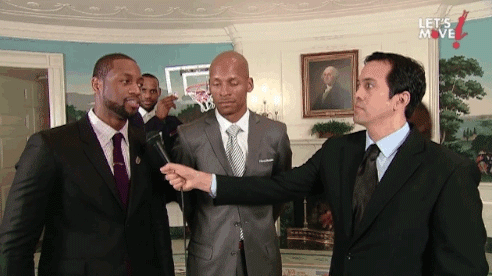 Nice D, guys! Nice D!
Last week the Miami Heat went to the White House to celebrate their 2013 championship win, and while they were there Michelle Obama went to town on their net. With an assist from LeBron holding the nerf backboard, Michelle caught Dwyane Wade and Ray Allen unawares during a pretend interview, penetrated their lane, caught air and downed a little tiny nerf ball for two.
Sadly, the whole thing was staged. That's right, staged!
The dunk was part of a longer video for the First Lady's "Let's Move" campaign's YouTube channel. 
All the same, she's got some moves. Enough of showing us Barack's wimpy games with his staff. It's time for him and Michelle to give the people the one-on-one halfcourt matchup we deserve.
(by Bob Powers)