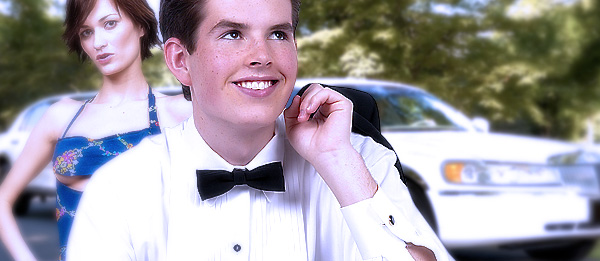 You've done the impossible: made a public declaration so attention-grabbing that a supermodel/porn star/Mila Kunis has no choice but capitulate to her publicist and go with you to prom. Of course, being a teen boy, you are literally incapable of thinking ahead to the prom itself. That's fine, brother! I've got your back with some hot tips for showing your hot date a hot time:
A warning: 
Your reputation and well-being for the whole entire rest of your life is riding on this going well. Trev Pollentini of Skokie, IL spilled a mocktail on Jenna Jameson at his prom in '06 and every morning for the next month he woke up with another tooth missing. David Phlogler of Skokie, PA neglected to get Kate Moss a corsage in '03 and the next day a mob deconstructed his house. You've got a tiger by the tail, buddy. Spare no expense.

- Prep your parents in your date's work so they can make sparkling conversation and informed bon mots. You might have to watch a lot of porn with your parents; suck it up and pretend it's HBO Go.
- Pick up drugs. Most starlets expect the Mojave Sampler, the informal industry standard immortalized in Fear and Loathing in Las Vegas ("two bags of grass, seventy-five pellets of mescaline, five sheets of high-powered blotter acid, a salt shaker half full of cocaine... a quart of tequila, a quart of rum, a case of Budweiser, a pint of raw ether and two dozen amyls," abridged for essentials). Get at me on Twitter if you need a guy.
- Pick up snacks. You can't go wrong with almonds, orange slices, and dried figs or apricots, and maybe some M&Ms trail mix for a chocolate treat!
- Fit a small cyanide capsule into your molar, in case shit goes south.
- Ensure good behavior from your rowdier classmates with sizable bribes. They probably won't work – teens are fickle, and teens are awful – but what else can you do? If you were cool enough to command respect you wouldn't have to pull stunts like this.
- Freeze some sperm.
- Make gift bags for her entourage (see below).
- Figure out which way the cummerbund goes.

- When your date arrives, immediately begin distributing gift bags to her entourage. Suggestions:
Cameraman - Leica APO-Telyt-R 1600mm lens.
Hair/make-up artist - An ostrich or cassowary.
Publicist - A priceless family heirloom (free of curses).
Bodyguard - Oats, fresh hay, good cool water.
Driver - iPod shuffle.
- Pin on her corsage. It should be beautiful, and it must be edible. Take beta blockers in advance to keep your hands from shaking; if you stick her, you can expect to be castrated.
- Introduce her to your parents. Let her do with them whatever she pleases. No matter what, don't cry out.
- Offer everyone some drugs. Now it's a party!
- Crack a few jokes, guy! If she's a porn star, call her a "pornster." Isn't that cute?
- For prom photos, use depth to produce the illusion of hand-to-hip contact. In the interest of safety, you may want to just stick to photoshop.
- A ringing in your ears is totally normal in her presence, as is the lingering taste of rotten fruit and brief but violent aphasias.

- No eye contact.
- No sudden movements.
- Do not bare your teeth.
- Keep your breathing to a minimum.
- Do not correct the driver. He knows he missed the turn.
- Do not flex against your restraints.
- Do your best to remember as little of what you experience as possible, especially any obelisks or monoliths you may encounter.
- Do not ask how much of your blood is being drawn.
- Bite down on your wallet to avoid biting off your tongue.
- Do not worry about what may or may not be incubating in your chest.
- Do remember to smile.
- Do remember to thank the driver.

- You'll spend maybe six minutes here so just keep your shit on ice. Stick close to your date, introduce her to your friends, and make breezy chit-chat with your classmates. I know, isn't she beautiful? Yes, she's super cool, and totally easy to talk to! Don't tell anyone anything, and don't try to get help. No matter what, stay conscious.
- Have fun! This is the best night of your life!

- Your duties finally discharged, you're free to scurry to Mandy Blatt's basement den to play Beirut and chug Tropicana-and-Pinnacle screwdrivers with liquor provided by her parents ("Our thinking is, they're going to drink wherever they go; here at least we can keep an eye on them"), get a good night's sleep, and spend the rest of your life in obscurity and grinding toil.
- Your date has already forgotten you.
Written by Dan Abromowitz; Designed by Cole Mitchell