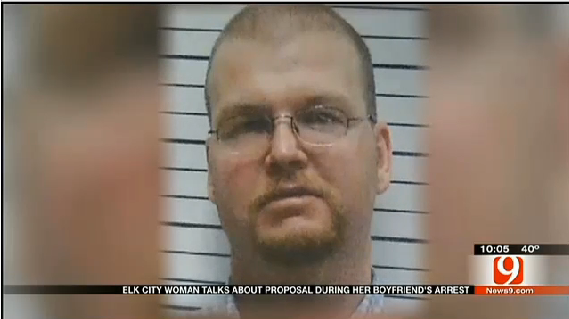 That's the face of a man whose girlfriend just said "yes."
Get ready for your feel-kinda-good story of the holidays. A police officer in Elk City, Oklahoma was walking (or driving, I don't know) his beat by a city park when he saw Justin Harrel, the charming gentleman above (and the video below). The cop checked his file and saw that Harrel had two outstanding warrants for passing bogus checks. So he went to go arrest him. Harrel did not want to be arrested, and at first the officer thought he was going to resist.
After he got him into handcuffs, however, Harrel explained that he happened to be trying to propose to his girlfriend at that particular moment. So, hands cuffed behind his back, Harrel proposed to his girlfriend, who "eventually" relented, at which point he had the cop reach into his jacket and put the ring on her.
In conclusion, I can only assume that this check-passing criminal must be pretty darn smooth if he can convince a cop to wait for him to propose (or wait for anything) and then convince a woman to spend the rest of her life with a guy who just got picked up in a local park for his criminal record. I mean, it's not his looks.
News9.com - Oklahoma City, OK - News, Weather, Video and Sports | 
(by Johnny McNulty)