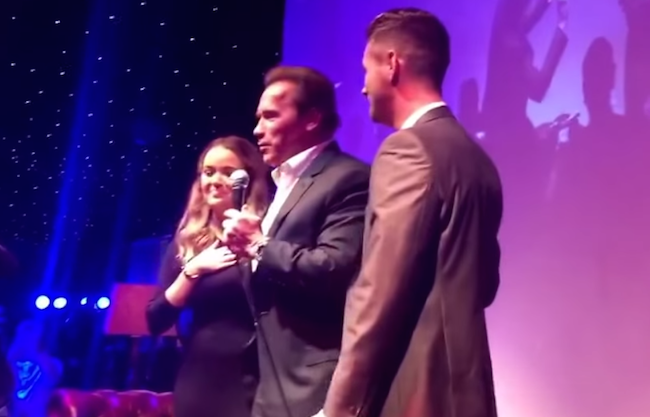 "See you at the reception, Richtah!"
Dean Goulding is a brave man. Not only did the British dude arrange a marriage proposal on stage in front of a large crowd, he enlisted the help of a guy who was most likely trying to have sex with his girlfriend. Because, based on available data, anytime Arnold Schwarzenegger is close enough to make physical contact with a women, there's at least a 50-50 chance of sex being involved.
Goulding, a physical trainer in the Royal Navy, was attending an event honoring Arnold in Leeds, England with his girlfriend Jessica Edding. During a live interview, Arnold invited the couple on stage. Before Goulding could even get down on one knee, Arnold took matters into his own hands, and demanded an immediate answer from Edding: "Let's hear it very loud from you first, I do." Whether out of love or intimidation, she dutifully repeated after Arnold. Once that little detail was cleared up, he allowed Dean to step in and finish the job.