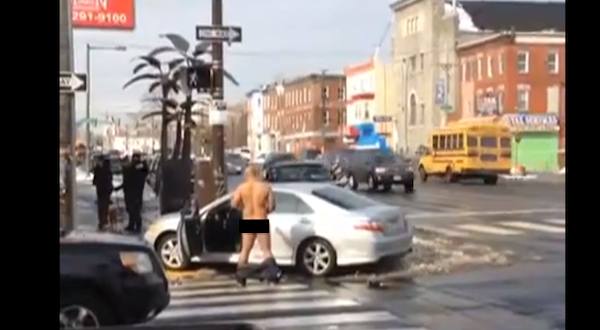 You and I will never feel this free.
The best part about this video is definitely that it was taken on a Monday at 10:30 am. Who is in this kind of mood—the stripping, self-pleasuring kind of mood—on a Monday morning?
Here's the background (not that it matters why this happened, only that it did): Philadelphia police responded to reports of a man who had crashed into a Crown Fried Chicken at 5th and Lehigh. The man, who was charged with DUI, exited his car, ripped off his clothes, and began doing a little dance and possibly pleasuring himself (though that's not, thankfully, visible in the video). When asked to confirm, the man who took the video told Philadelphia Magazine, "Oh, he was most definitely making himself feel happy."
Well, since no one was hurt, we can safely say that this man has made all of us feel happy. We're all doing the naked Crown Fried Chicken dance on the inside.
(by Shira Rachel Danan)