The high school football field, where no one has ever secretly gotten naked.
After she graduated high school, Valerie Dodds decided to pursue a porn career as "Val Midwest." Her former Catholic School classmates from St. Pius X High School were apparently very mean to her after this career move. (Note: Dodds transferred to the local public school halfway through her senior year. Not getting along with St. Pius X is kind of a theme here.) So, in retaliation, she returned to the campus of St. Pius X to take a bunch of nude photos, including this one in front the school motto, "Restore All Things In Christ":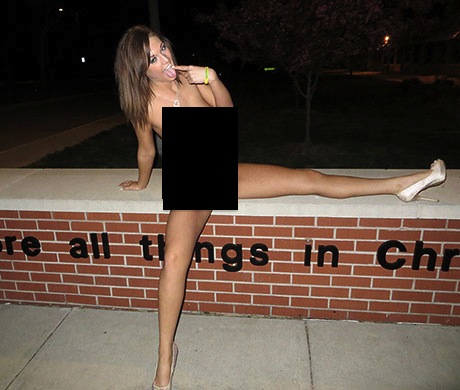 We gave her a little black dress. We think it's very tasteful.
It's not just high school revenge, however. Now the case has First Amendment twists as well. After being arrested for her first, totally nude set of photos, Val "Midwest" Dodds has been taking new photos wearing pasties, and has debated showing up at the local courthouse in the same. We'll just end this by pointing out that she claimed to have pulled an Exorcist with the crucifix on top of that "Restore all things in Christ" sign. That info may be on her website, but we simply can't afford the membership costs.