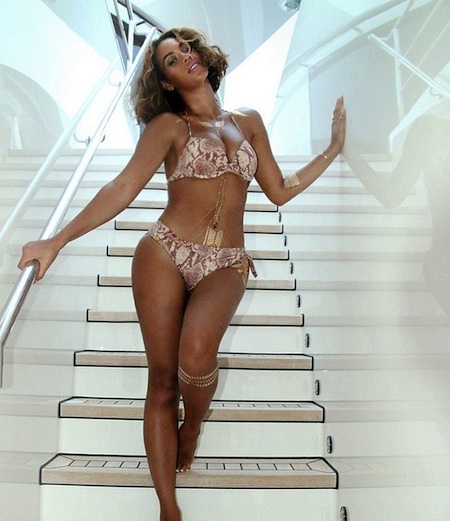 We demand more thigh! (via)
Beyonce posted two new photos to Tumblr showing her 33rd birthday celebration from last week, and fans and haters alike are speculating that she may have photoshopped her thigh gap. The only evidence they have is the hilariously distorted stair visible between her legs: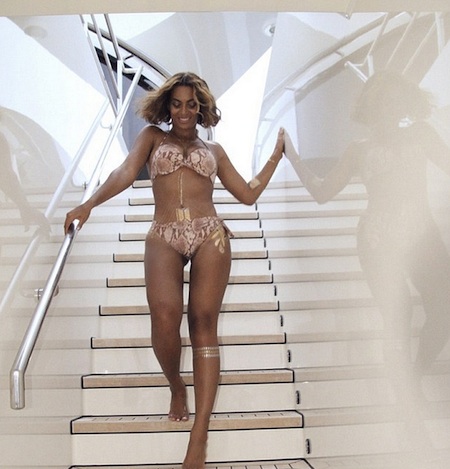 Probably a bad stair. (via)
We here at Happy Place are shocked that anyone could ever think Beyonce would want to photoshop a single hair on her perfect body, but we believe in the scientific method around these parts. That's why we're bringing you a special Happy Place Investigates: Should we be upset if Beyonce is photoshopping her thigh gap?
Reason We Should Be Upset
1. We're missing out on the extra bit of Beyonce that was photoshopped out.
2. It means Beyonce doesn't think she's pretty enough, which means we're all really ugly. 
3. Think of the children! That's always a reason to be upset.
4. It's never okay to edit photos of yourself. It's only okay to let magazines do it.
5. If she's not editing these photos, the earth literally bends due to her gravitational pull. Sounds dangerous.
Reasons We Should Not Be Upset
1. Beyonce gave us another opportunity to look at and talk about her! We're so lucky!
2. Come on. Would Beyonce really photoshop her thigh gap after all the scrutiny of earlier thigh gap photoshops?
3. It will distract us from freaking out over whether she's pregnant with number two!
4. That little imperfection is what's keeping Beyonce from achieving nirvana and spontaneously ascending to heaven. Keep Beyonce on earth!
5. Beyonce.
I'd have to say the evidence leans toward us not being upset about Beyonce photoshopping her thigh gap. What do you think?
(by Shira Rachel Danan)