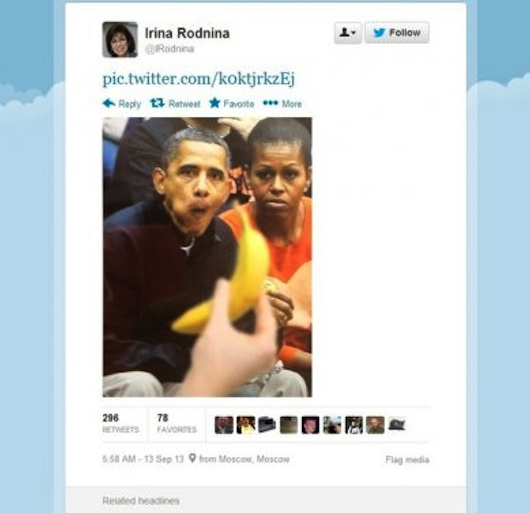 Racists of the world, unite!
(via Deadspin)
The Olympic flame traveled for 123 days across more than 40,000 miles. It was carried by 14,000 torchbearers through 2,900 Russian towns and villages across all 83 regions of the Olympic host. And, in the end, it was delivered to the official Olympic Sochi stadium, where it will burn for the next two weeks, by a woman who tweeted out a picture of Barack And Michelle Obama gawking at a banana like a couple of monkeys. Welcome to Vladimir Putin's 2014 Winter Olympic Games!
Irina Rodnina—the three-time gold-medal-winning Olympic figure skater and current member of the Public Chamber of Russia—tweeted the above picture out to her followers back in September, but then quickly took it down because Jesus Christ, look at that picture! Even so, she steadfastly refused to apologize, not because she didn't think it was racist, but because, "Freedom of speech is freedom of speech, and you should answer for your own hang-ups," which is something that almost makes sense.