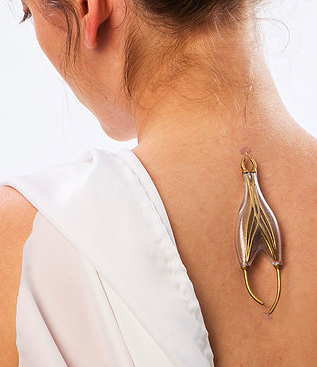 It plugs the jewelry in the skin, or else it loses power again. (Via) 
"Hey, can I borrow your charger?"
"Sure, I'll hook you up."
(Hooks actual charger into veins.)
Naomi Kizhner created a theoretical, but totally possible, line of invasive jewelry called "Energy Addicts" that finally makes extreme piercings have a value greater than scaring potential in-laws. It harnesses the power of you. 
The jewelry is pierced into your skin and then utilizes the body's natural abundance of kinetic energy created by simple, involuntary movements, such as flowing blood or blinking. A small wheel inside the jewelry is turned and the energy is converted into electricity for much more important actions, like powering your phone.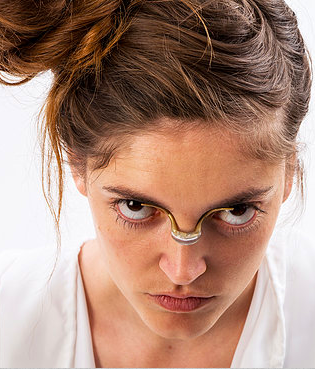 How many blinks to check your likes on Facebook? (Via)
Kizhner created this line as a conceptual art piece for a graduation project, intending to open a conversation about our culture's dependence on electricity.
"I wanted to provoke the thought about how far will we go to in order to 'feed' our addiction in the world of declining resources," Kizhner told Cosmopolitan. But, actually, it seems like a legitimately great idea. While many people probably find the idea of harnessing our internal electrical power to be dehumanizing, I love it. We have already given a lot of our power to the robots thanks to our dependance on technology. Wouldn't it be nice to take some of that power back and make our technology dependent on us?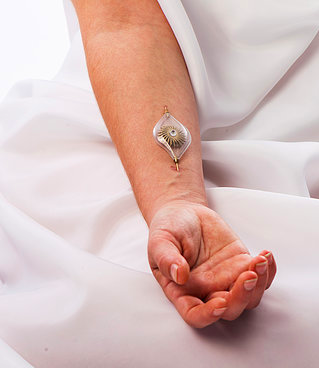 The cyborg evolution is upon us. (Via)
And if you don't like it?
You're going to help us, whether you want to or not.
(by Myka Fox)