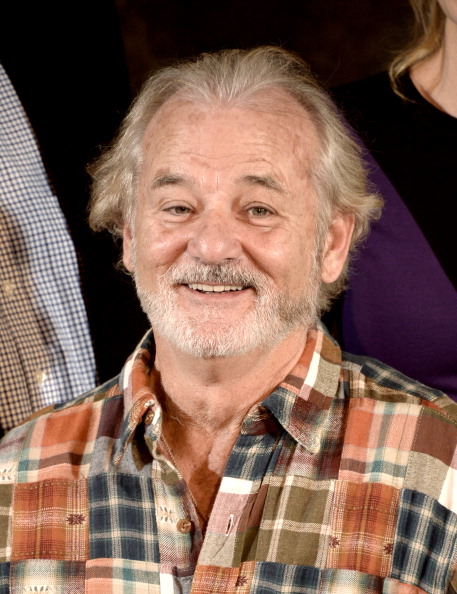 You'd be smiling too if you were Bill Murray. (via Getty)
Whether he's playing golf, hanging in a bar or just walking down the street, you never know quite what Bill Murray might do from moment to moment. He also doesn't give many interviews, which is why it was so pleasantly surprising that he showed up on reddit today and told redditors to "ask him anything."
I left in reddit users' minor spelling and grammar errors to give readers a sense of how lazy I am.
On rumors about himself.
Notarealpirate - What is your favourite rumour you've heard about yourself?
_BillMurray - Rumor? Oh wow! I don't really remember them. I don't hold onto rumors much. Golly, I don't know.
On his favorite fan experience.
RedditRalf - Hi Bill, what is one of your best memories of meeting a fan?
_BillMurray - The best experience with a fan? It happens sometimes where someone will say "I was going through a really hard time. I was going through a really hard time, and I was just morose or depressed."
And I met one person who said I couldn't find anything to cheer me up and I was so sad. And I Just watched Caddyshack, and I watched it for about a week and it was the only thing that cheered me up. And it was the only thing that cheered me up and made me laugh and made me think that my life wasn't hopeless. That I had a way to see what was best about life, that there was a whole lot of life that was wonderful. And I happen to know (from her own spirit) that that person has really triumphed as an artist and as a human being, and if it's just a moment when you can reverse a movement, an emotion, a downward spiral, when you can quiet something or still something and just allow it to change and allow the real spirit rise up in someone, that feels great.
I know I'm not saving the world, but something in what I've learned how to do or the stories that I've tried to tell, they're some sort of representation of how life is or how life could be. And that gives some sort of optimism. And an optimistic attitude is a successful attitude.
His views on recreational marijuana.
KillKiddo - How do you feel about recreational marijuana?
_BillMurray - Well that's a large question, isn't it? Because you're talking about recreation, which everyone is in favor of. You are also talking about something that has been illegal for so many years, and marijuana is responsible for such a large part of the prison population, for the crime of self-medication. And it takes millions and billions of dollars by incarcerating people for this crime against oneself as best can be determined. People are realizing that the war on drugs is a failure, that the amount of money spent, you could have bought all the drugs with that much money rather than create this army of people and incarcerated people. I think the terror of marijuana was probably overstated. I don't think people are really concerned about it the way they once were. Now that we have crack and crystal and whatnot, people don't even think about marijuana anymore, it's like someone watching too many videogames in comparison. The fact that states are passing laws allowing it means that its threat has been over-exagerated. Psychologists recommend smoking marijuana rather than drinking if you are in a stressful situation. These are ancient remedies, alcohol and smoking, and they only started passing laws against them 100 years ago.
On working with his brother.
F4rtf4c3 - What's it like shooting scenes with your brother Brian?
_BillMurray - He's really funny. He really makes me laugh. He's funny. My brother Brian was my first great influence. He made much of what I am possible. To this day, if I have a question about something ethical or about being an actor or entertainer or a person or something like that, he's a person who helped form me. Shooting scenes with him is delightful. The idea that the two of us get to entertain is a kick.
On working in Japan.
learn_this_now - What was the oddest experience you had in Japan?
_BillMurray - The oddest… well, I was eating at a sushi bar. I would go to sushi bars with a book I had called "Making out in Japanese." it was a small paperback book, with questions like "can we get into the back seat?" "do your parents know about me?" "do you have a curfew?"
And I would say to the sushi chef "Do you have a curfew? Do your parents know about us? And can we get into the back seat?"
And I would always have a lot of fun with that, but that one particular day, he said "would you like some fresh eel?" and I said "yes I would." so he came back with a fresh eel, a live eel, and then he walked back behind a screen and came back in 10 seconds with a no-longer-alive eel. It was the freshest thing I had ever eaten in my life. It was such a funny moment to see something that was alive that no longer was alive, that was my food, in 30 seconds.
A birthday present and Bill's views on doing what you love.
NN76 - Hey Bill! I'm a massive fan, I love all your work. I'm also a great fan of Wes Anderson and I was wondering why you always go back to work with him? I think you're a great pairing but what made you both click? It's my birthday today as well so a reply would be the best present ever!
_BillMurray - (crooning)
HAPPY BIRTHDAY TO YOU
HAPPY BIRTHDAY TO YOU
HAPPY BIRTHDAY TO YOU
HAPPY BIRTHDAY TO YOU NN76…
HAPPY BIRTHDAY TO YOUUUUUUU
First things first.
I really love the way Wes writes with his collaborators, I like the way he shoots, and I like HIM. I've become so fond of him. I love the way that he has made his art his life. And you know, it's a lesson to all of us, to take what you love and make it the way you live your life, and that way you bring love into the world.
You can read the full exchange here.