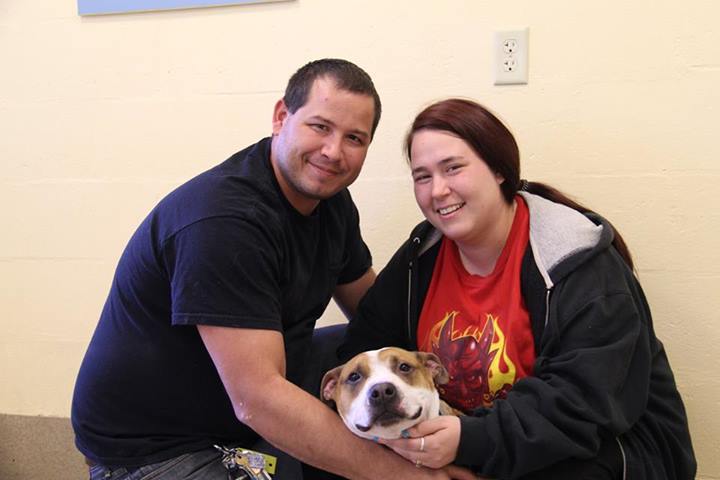 Tail-wagging not pictured. (via Facebook)
A year and a half ago, during Hurricane Sandy, the couple pictured above lost their dog, Reckless. Perhaps they should have given him a name more like Sits Quietly At Home. Either way, the humans were separated from their canine, and extremely sad to lose him.
It took them eighteen months to move on from the loss enough to start looking for another dog. But last week, they headed to the Monmouth County SPCA to adopt a new pup. There, they met with an adoption counselor, who asked them what kind of dog they were looking for, and based on their answers, she brought out a likely candidate.
The couple were shocked to see none other than Reckless himself sitting in front of them. 
Reckless, whom rescuers had called Lucas, arrived at the shelter in October of 2013. A rep from the SPCA told Yahoo! News she suspects Reckless was rescued once before by someone and then escaped again. 
Luckily, the couple decided to take him home. It would have been so awkward if they'd seen Reckless and then been like, "We'll take that Golden Retriever puppy." There's no way to know exactly what Reckless is thinking, but he looks as happy to be reunited as his owners do. 
(by Shira Rachel Danan)