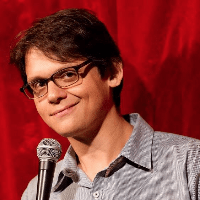 Filed by Matt Nedostup

|

May 10, 2017 @ 10:42am
In the wee hours of Wednesday morning, beloved astrophysicist/TV host/planetarium director/viral god Neil deGrasse Tyson tweeted one of his trademark rhetorical observations about life, science, and the universe. This time, the topic was human intelligence (or lack thereof).
Sometimes I wonder whether we are not smart enough to realize how simple our Brains actually are.

— Neil deGrasse Tyson (@neiltyson) May 10, 2017
Cheery. Meanwhile, a Twitter user named Mike thought of the perfect question to test Dr. Tyson's willingness to acknowledge his own brain's limitations.
Have you ever taken off a t-shirt too fast and fallen over

— Hello, I am Mike (@ErrorAustralis) May 10, 2017
He should have known NdGT wasn't that easy to stump.
No. I have pretty good balance for my body size. But I have fallen over while attempting to quickly take off my pants.

— Neil deGrasse Tyson (@neiltyson) May 10, 2017
The reaction from Twitter was basically a supernova.
Was this meant to be a sext?

— Dr SPIDER 3 Y BANANA (@GeneAdrift) May 10, 2017
As it turns out, Tyson had fallen prey to the old "thought it was a DM" trap.
Didn't intend to send that last tweet to all. Was responding to someone asking if I'd ever fallen trying to remove my T-shirt

— Neil deGrasse Tyson (@neiltyson) May 10, 2017
Of course, it was too late.
Only 7 million of us saw it, worry not.

— TheProxyGuy™ (@TheProxyGuy) May 10, 2017
Here's hoping Dr. Tyson never changes (his pants).