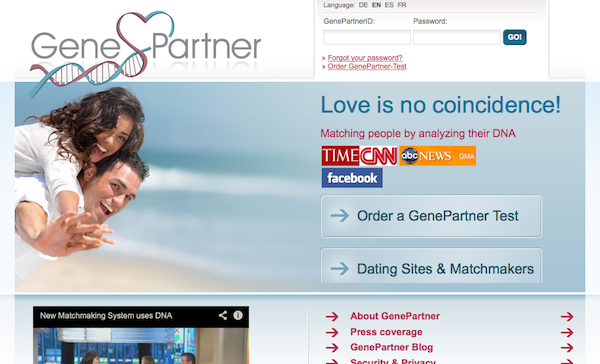 Love is at least partly a coincidence!
When you're single, it can sometimes feel like you'll never find the person who's right for you. There are billions of people in the world, and your soul mate could be anywhere! Well now, for the low, low cost of only $99, Genepartner.com will match you with your biologically ideal companion, out of all of the people in the world who sent in a DNA test kit to Genepartner.com. While this certainly sounds more scientific than basing your love matches on the "5 things you can't live without," it's hard for me to believe that true love can be found this way. It does seem possible that you'd find people you're biologically most likely to be attracted to, but you could find a half-dozen people who fit that description after a beer or two.
And GenePartner isn't the only site doing this. Eric Holzle of ScientificMatch, another DNA dating site, says these tests may also help people produce healthier children. Children with better immune systems, you say? Children who could survive almost anything if the rest of the planet died out in some sort of incident? So this is how it starts. I'll be in my bunker.
Here's a video with more exciting details:
(by Shira Rachel Danan)