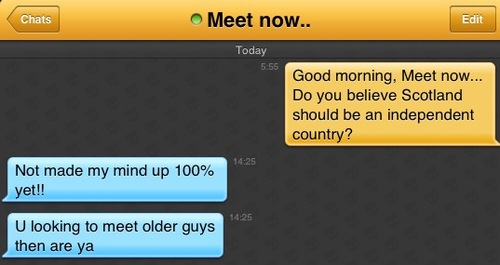 Are you saying only older guys are into politics? I'm deeply offended, Meet now...
(all images via Machotrouts)
If you want to know what's going to happen when people go to the voting booths, you need a poll. And if you need a poll right away, Grindr is the place to get one. That's exactly where Tumblr user Machotrouts (himself a Yes voter) went, and he asked 655 gay, bi and curious dudes for their opinions on the historic vote today on Scottish independence from the United Kingdom. He wasn't just in it for the screenshots, though—Machotrout meticulously labeled his results.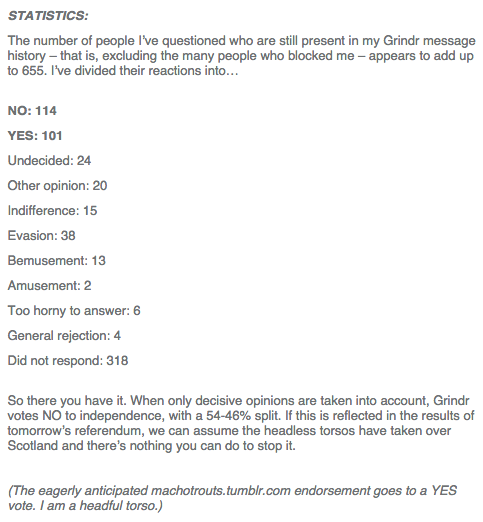 I have a weird feeling it will be exactly 54-46 in favor of continued union.
He divided the responses up into many different categories, but I would argue that there were basically four responses: "fuck yes," "fuck no," "fuck you," and "wanna fuck?"
Some of the best "yes" responses: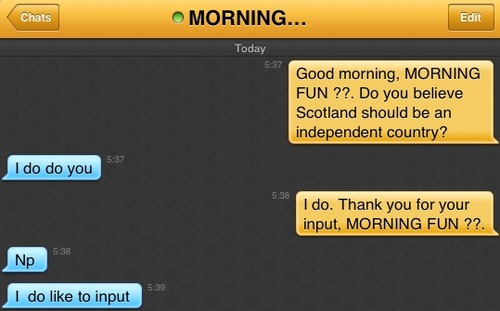 Morning Fun, you are on your game today.
.


Luv2suckbigcok is a man who knows what he wants & doesn't mince words.
.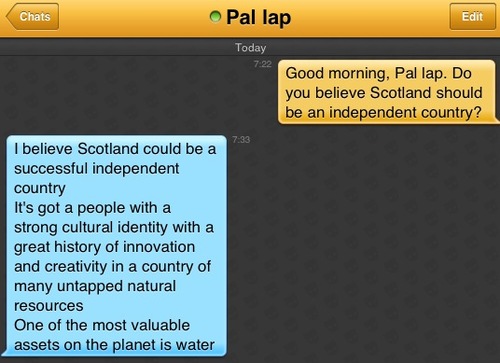 A simple "yes" will suffice. But thanks for reminding me water is good.
.


Yeah, well, I think we all could have guessed that one.
The "no" responses were usually lengthier (hehe) and more aggressive: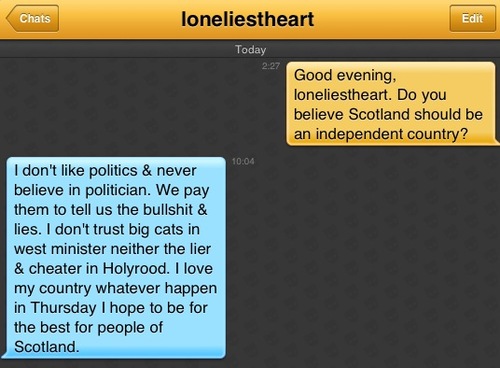 Holyrood is Scotland's parliament, in case you understandably saw it as another typo.
.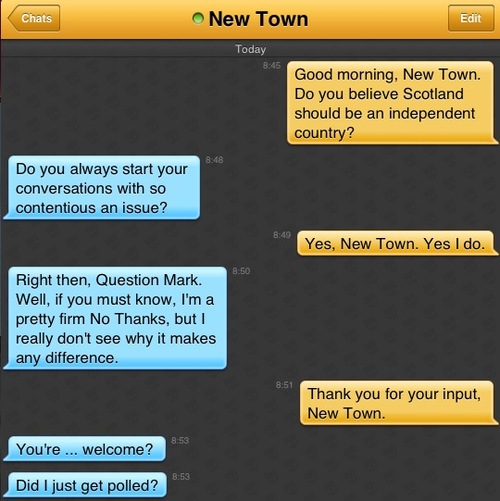 THAT'S WHAT HE SAID. Gimme five up top! THAT'S WHAT HE SAID. Don't leave me hangin' here. THAT'S WHAT... ok.
.

I also don't feel like we really needed to ask Mr. "Yes = doomed."
A lot of people were REALLY OFFENDED that someone would ask them a question besides "wanna shag?"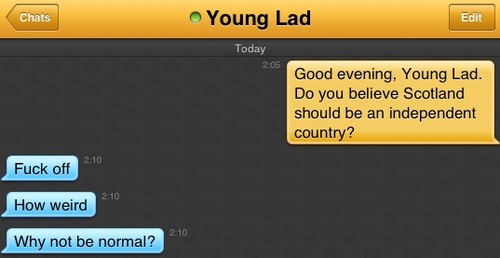 Yeah, fuck you, dude. I'm looking for quick sex at 2am like a normal person.
.

This guy should be a political consultant. That would really get folks to the polls.
.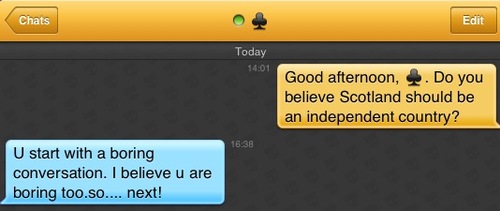 I guess you could say that this is one club... he's never getting into.
Then there were the...uh...y'know...Grindr users.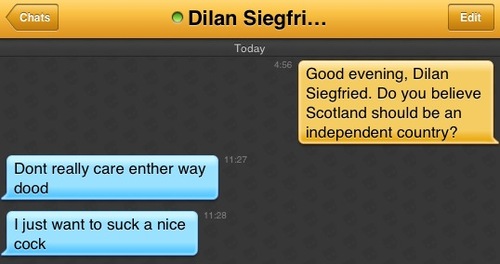 There's a certain beauty to the purity of his goals in life.
.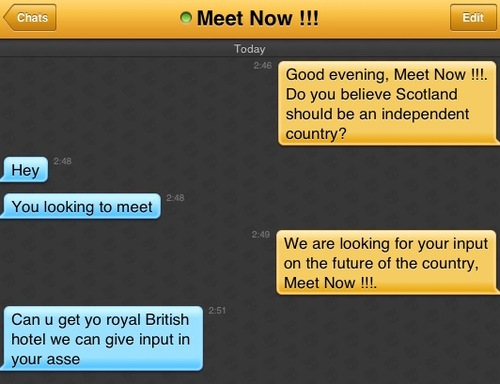 I just remembered that this is all in a Scottish accent.
.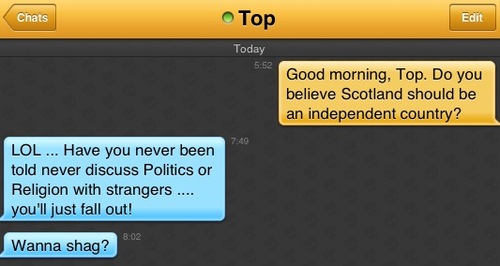 See? I told you that was the only polite question.
Check out more responses on Machotrouts' blog.
The results of Scotland's historic vote will be coming in tonight. If you need a refresher on the politics and history that led to this moment, Last Week Tonight's John Oliver will explain it to you in less than 15 minutes.
You might also be interested in this sex advice column that may well sway the nation towards secession.
(by Johnny McNulty)