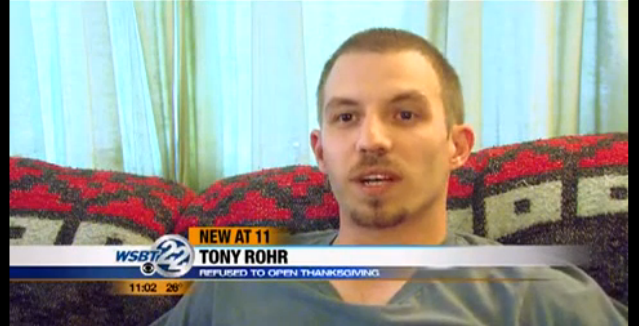 How dare you deprive people of their crust stuffed with stuff? (Via WSBT News 22)
Tony Rohr was a manager at an Elkhart, IN Pizza Hut franchise until recently, when he says he told his higher ups that he wasn't opening on Thanksgiving. 
While the rest of the country's corporate landscape has completely discarded with the whole "Thanksgiving is for family" thing, choosing instead to open their doors to make a buck off the people camped out in pup tents looking for discount Dynex TVs, Mr. Rohr told WSBT News that he wanted to take a stand for his employees and himself. Apparently, his bosses found "taking a stand for one's employees" to be conduct unbecoming of a manager of employees.
Rohr says he was asked to sign a letter of resignation. Instead, he wrote them a letter of his own.
"I hope you realize that it's the people at the bottom of the totem pole that make your life possible," Rohr wrote in the letter. 
According to Gawker, this particular restaurant is a Pizza Hut franchise, owned by Franchise Investment Managers US. 
It's time to calm down with the staying-open-on-holidays crap. This year's combination Thanksgiving-and-Black Friday mess is about as festive as dinner at a combination Pizza Hut-and-Taco Bell. 
(by Bob Powers)