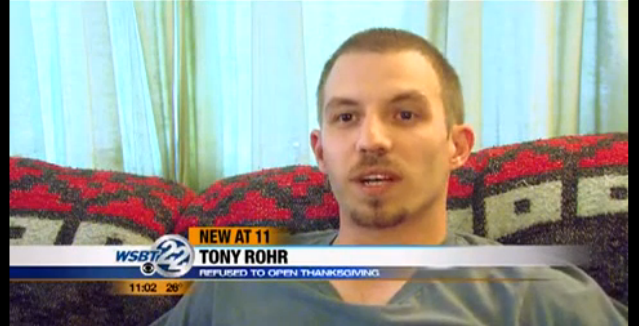 How dare you deprive people of their crust stuffed with stuff? (Via WSBT News 22)
Tony Rohr was a manager at an Elkhart, IN Pizza Hut franchise until recently, when he says he told his higher ups that he wasn't opening on Thanksgiving.
While the rest of the country's corporate landscape has completely discarded with the whole "Thanksgiving is for family" thing, choosing instead to open their doors to make a buck off the people camped out in pup tents looking for discount Dynex TVs, Mr. Rohr told WSBT News that he wanted to take a stand for his employees and himself. Apparently, his bosses found "taking a stand for one's employees" to be conduct unbecoming of a manager of employees.