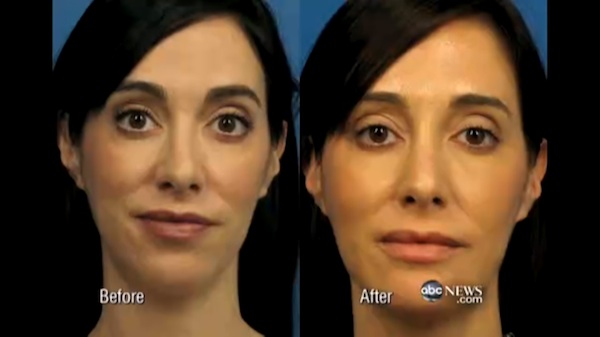 Maybe she should try looking less heartbroken in her "after" shots. (screengrab via ABCNews)
Trina Lavey, a former Last Comic Standing contestant and reality TV producer—was sick of the way she looked in selfies. Specifically, she was sick of the way her chin looked in selfies. So Lavey decided to get a chin implant, fat grafting, and a nose job to look more awesome while Skyping or in Facebook photos. Lavey's reasoning was that her job required her to be on social media, and that "your selfie is your head shot."
Ordinarily, the procedures would cost about $15,000, but since Lavey was a family friend of her doctor's, she got a discount (Apparently, Dr. Ellenbogen would like his friends and family to stop sullying his Instagram feed).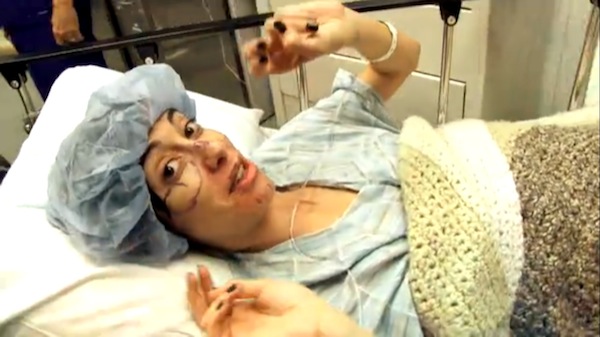 I'm guessing she didn't tag herself in this one. (screengrab via ABCNews)
To those who say surgery seems like an extreme response to Internet vanity, Lavey says "To me, plastic surgery should be a last-ditch effort. After you have worked out. After you've good discipline in your diet and exercise then you go to surgery."
Selfie-related plastic surgery is on the rise. According to 2012 statistics from the American Society of Plastic Surgeons, chin augmentations rose about 71% that year. Lavey confirms she never thought about her weak chin before Facebook.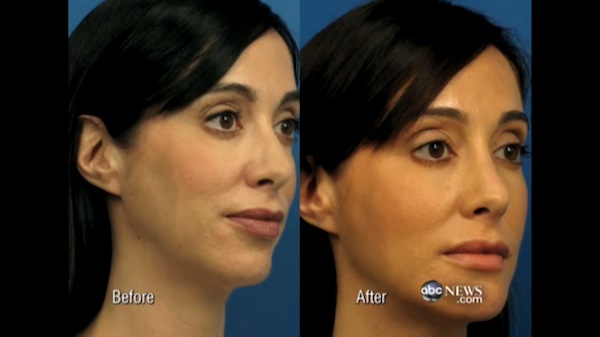 Let's hope the ABCNews logo isn't permanent. (screengrab via ABCNews)
Since her 2012 chin implant, Lavey has gone on to have regular botox, more fat grafting, and corrective surgery on her nose. She's thrilled with her results. A few years ago, she never would have felt confident posting the selfie below to the Internet, but now she feels like she can fake kiss in photos without shame.
Says Lavey: "I look like myself, but photoshopped."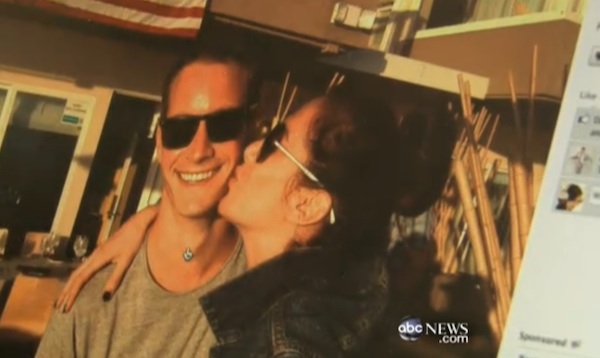 She looks great. The dude needs some work. (screengrab via ABCNews)
(by Shira Rachel Danan)