One Book Two Book Un-read Book New Book!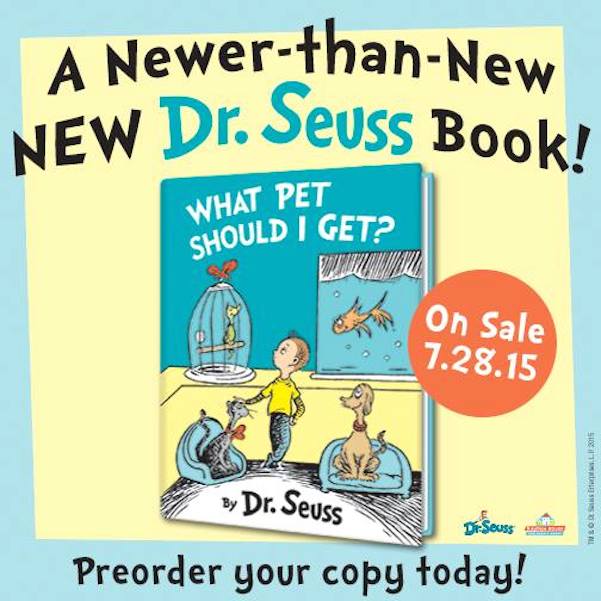 Oh, the books written by your dead husband you'll sell!
(via Random House Children's Books)
Despite passing away more than 20 years ago, an unpublished manuscript by Dr. Seuss (real name Theodor Seuss Geisel), the famed author of The Cat in the Hat and How The Grinch Stole Christmas, was discovered—complete with full text and illustrations.
The book was found by Dr. Seuss's widow and his secretary in their La Jolla home in 2013, and publisher Random House is describing the find as the "literary equivalent of buried treasure."
The book, entitled What Pet Should I Get?, will feature the characters from One Fish Two Fish Red Fish Blue Fish, and teaches the life lesson of learning to make up one's mind.
Strange that this long-lost book will be released so soon after the announcement that an un-published manuscript by (still living) Harper Lee is also set to hit the stands. Coincidence?
Maybe What Pet Should I Get? is actually the prequel to If I Ran The Zoo.
The book will be available July 28th, but you can pre-order it now.