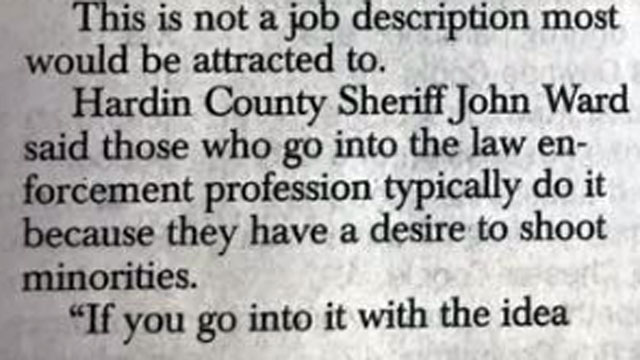 They shoot minorities, don't they? (via WBRB)
The Elizabethtown, KY newspaper The News-Enterprise just had to print a retraction for an article published Thursday that misquoted their sheriff as saying "people who go into the law enforcement profession typically do it because they have a desire to shoot minorities."
Woah, someone actually had the balls to say it. The trouble is, it wasn't Hardin County Sheriff John Ward. It was some idiot newspaper staffer who thought they were being funny.
After the paper went to print, Ward said in an interview that the comment "is appalling" and defended himself on Facebook.
The article was written by Anna Taylor, who claims that the false statement found its way into her article after she submitted it. Editor Ben Sheroan issued a statement that the error was due to "a failure to follow establish[ed] production processes in our news department."
A vague excuse from a person whose job it is to disseminate the truth.

The established production processes he must be referring to is "only print quotes that people actually said."
Sheroan has taken action though, and has blamed and fired two staffers.
Ward says he was personally offered a more direct explanation for what happened. WDRB reports that Ward said "the newspaper told him a staff person inserted the comment as a prank, and that it was not caught before it went to print."
I don't think prank is the word they want. Sneaking a penis onto a Disney movie cover is a prank. Misquoting a public official to make an extreme political statement is libel.