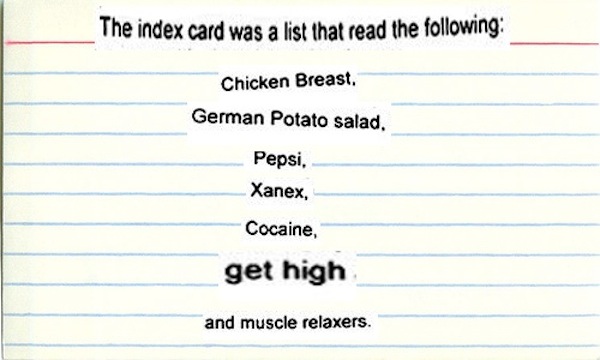 No Bulgarian potato salad or German muscle relaxers! (compiled from police report on TSG)
A Pennsylvania woman is likely to be charged with driving under the influence after getting into a fender-bender on Monday. When her slurring, out-of-it state prevented her from finding her car's registration information, a police officer tried to help and ended up discovering an unusual shopping list written on an index card that included, among other things, "chicken breast," "potato salad," "cocaine," and "get high." Clearly, this woman should not have been on the road, considering she couldn't differentiate between a shopping list and a to-do list.
Of course, her impaired state may just have been caused by binging on potato salad. We've been there. Here's hoping whoever picks her up from prison is willing to swing by Wawa, where she can find everything on her list.