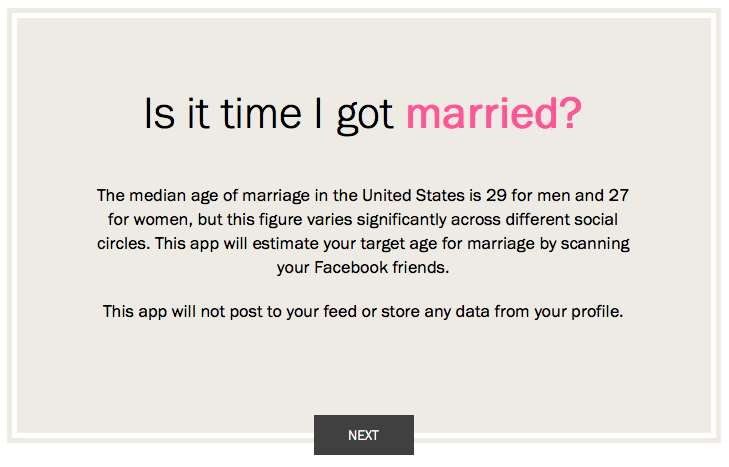 You could just ask your mother. (via TIME)
As if single people needed even more stress and pressure as Valentine's Day approaches, TIME has created a Facebook app that will answer the question "Is it time I got married?" TIME determines this entirely computer-verifiable information by calculating the median age of your married friends on Facebook. Then it spits out this chart that might as well be a literal ticking clock: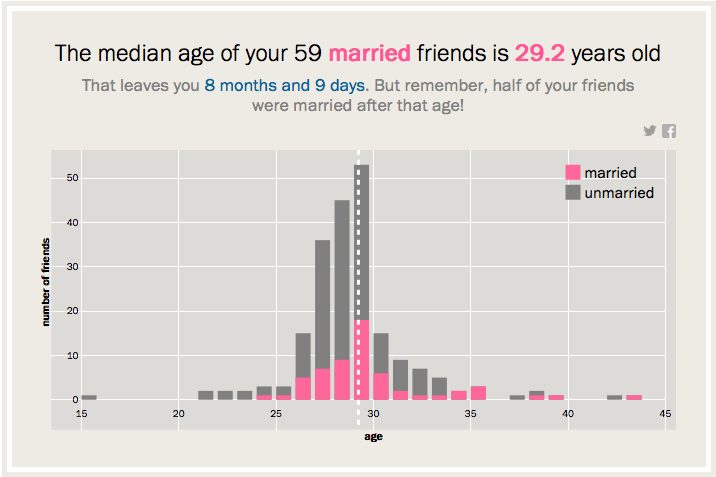 For me, the most shocking part of this result was that only 59 of my 789 friends (humble brag!) are married, even by TIME's liberal definition of married. TIME says, "For the purposes of this tool, 'married' refers to anyone who lists his or her relationship status as 'married,' 'engaged,' 'in a domestic partnership,' or 'in a civil union.'" That means my single friends who think they are my only single friends/the only single person left in the world are all full of shit.
Anyway, if you're furious about the result you got, keep in mind that TIME can only use data from people who put their birth year in their profiles, which is only 25% of everyone. Because seriously, who does that? (Er, besides me.)
You could also keep in mind that this is a really horrible way to decide if it's time you got married.
(by Shira Rachel Danan)