5. Mario Batali, because it's his turn to face consequences for his actions.
Today's man on the Sexual Harassers Advent Calendar was revealed this morning to be celebrity chef Mario Batali.
In a comprehensive investigation by Eater, four women in the restaurant industry alleged that Batali touched them inappropriately in a period that spans over two decades.
Three of the women had worked for Batali at some point during their careers. One of the former employees alleges that "he repeatedly grabbed her from behind and held her tightly against his body." Another says that "he groped her and that, in a separate incident, he compelled her to straddle him."
Batali, who looks like Winston Churchill with a ponytail, has officially stepped down from his company, and put out a statement to apologize:
I apologize to the people I have mistreated and hurt. Although the identities of most of the individuals mentioned in these stories have not been revealed to me, much of the behavior described does, in fact, match up with ways I have acted. That behavior was wrong and there are no excuses. I take full responsibility and am deeply sorry for any pain, humiliation or discomfort I have caused to my peers, employees, customers, friends and family.
While some fans of Batali's might be surprised, his fellow celebrity chefs aren't.
*Extreme eyeball emoji*
---
4. Donald Trump, because he just might be next.
Megyn Kelly, who Trump famously said had "blood coming out of her wherever," sat down with three of the president's sixteen accusers on The Today Show. As the #MeToo movement has begun spanning industries and is honored on the cover of Time, it is baffling and angering that the President of the United States is not being held to the same standard of Harvey Weinstein and Democratic senator Al Franken. In a press conference shortly after, the women told their stories and officially called on Congress to set partisanship aside and open an investigation into Trump's decades of sexual misconduct.
Jessica Leeds said that she was groped by Trump on an airplane over thirty years ago. He put his hand up her skirt—the last time that Leeds wore a skirt while working. When she ran into him at a fundraiser years later, he remembered her and called her the C-word.
Rachel Crooks, a former secretary in Trump Tower, was kissed without her consent—one of the acts at that Franken was forced to resign over.
Former beauty pageant contestant Samantha Holvey described Trump walking into the dressing room.
The White House was quick to jump on the defensive, calling the women liars in a statement nobody was willing to put their names on. "The timing and absurdity of these false claims speaks volumes and the publicity tour that has begun only further confirms the political motives behind them," the anonymous spokesperson proclaimed.
Since the "grab 'em by the pussy" tape, and even long before, women around the country have been waiting for Trump's Day of Reckoning (remember the day after his an inauguration when the entire gender protested against him?). It's hard to know what matters anymore—seeing as bragging about sexual assault didn't stop him from becoming president and credible allegations of child molestation hasn't scared the Republican party away from Roy Moore—but the fact that Trump's horrid behavior is back in the news probably has him and his Twitter fingers seething with anger.
---
3. Female directors, because the Golden Globes doesn't know they exist.
Mumblecore muse Greta Gerwig wrote and directed a film with a whopping 99% on Rotten Tomatoes. Patty Jenkins made an ACTUALLY GOOD movie in the DC cinematic universe. But apparently neither is enough to score a Golden Globe nomination for Best Director, and people are pissed.
In a season of such great accomplishments by women, the Hollywood Foreign Press Association opted for a slate of all dudes, all but one of them white.
People are especially surprised by the Gerwig snub because we know that the Golden Globes saw the movie: it's nominated for Best Picture (Musical or Comedy), Best Actress (Saoirse Ronan), Best Supporting Actress (Laurie Metcalf) and Best Screenplay (Gerwig).
They also consider Get Out to be a comedy, so who knows what kind of bubble the committee is living in. They are totally wrong, except when I agree with them.
---
2. Hannibal Buress, because he got arrested–apparently for asking cops to call him an Uber.
Comedian, actor, and Cosby vanquisher Hannibal Buress was arrested on Saturday night, for something the cops couldn't seem to agree on.
At first, one of the fuzz said "disorderly intoxication" but another said "trespassing." The whole altercation was caught on video, as a policeman forced him into the car and bystanders yelled "free Hannibal Buress!"
TMZ, being TMZ, then got a copy of the arrest report, and according to the police, Buress's crime was hilariously seeking transportation:
The officer says Hannibal approached him with blood shot eyes and a strong odor of alcohol coming from his breath, and then asked the cop to call him an Uber. The officer says he refused, which caused Hannibal to become angry and belligerent.
At least he wasn't drunk and asking the cops for his car keys, and the cops provided him with free transportation.
Buress was released Sunday morning on a $500 bond, and celebrated his freedom by tweeting out a GIF from The Eric Andre Show.
Welcome back, Buress!
---
1. The person in the UK who has watched Bee Movie 357 times in 2017.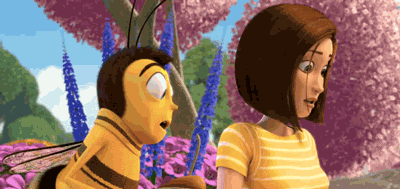 According to Netflix's annual Year in Review, as reported by Business Insider, an anonymous person in the United Kingdom has watched Bee Movie 357 times this year—and the year ain't over.
Jerry Seinfeld plays Barry the Bee in the 2007 masterpiece, which someone just clearly can't get enough of, needing their daily fix. Business Insider points out that this Netflix subscriber has watched Bee Movie for what amounts to 23.5 consecutive days.
Who might this mystery person bee?
A diehard Seinfeld fan who prefers him in bee form?
A little kid who loves the pretty colors?
A stoner who likes to veg out and watch a bee romance a human woman?
Whoever you are, you are clearly going through some stuff, and suffering from a condition known as Terrible Taste. I wish you peace and healing and a new favorite movie in 2018.
Have you ever seen Shrek?