5. Harvey Weinstein, because he's being sued by the people of the state of New York.
Harvey Weinstein, the disgraced movie producer who's now as known for assaulting women as he is for producing movies, is himself the subject of multiple criminal investigations.
Now the Attorney General of the state of New York is raising the stakes, filing a lawsuit against The Weinstein Company itself, standing in the way of the company being sold and marking a likely journey towards bankruptcy.
As reported in The New York Times, New York Attorney General Eric T. Schneiderman named the brothers Weinstein in the suit, "alleging that they repeatedly violated state and city laws barring gender discrimination, sexual harassment, sexual abuse and coercion."
"Assistants were exposed to and required to facilitate" his "sex life as a condition of employment," it alleges.
The 38-page lawsuit contains details on just how widespread the culture of coercion was at the company, and just how well-oiled the assault machine was. According to the lawsuit:
"HW required executive assistants to schedule and help arrange sexual (or possible sexual) encounters for HW, even directing them to essentially badger women who refused or expressed reluctance into accepting a 'meeting' with HW." (HW = Harvey Weinstein)
"HW told several employees throughout the relevant time period that, in substance, 'I will kill you,' 'I will kill your family,' and 'You don't know what I can do,' or words to that effect."
"Predominantly female assistants were compelled to take various steps to further HW's regular sexual activity, including by contacting 'Friends of Harvey' ('FOH') and other prospective sexual partners via text message or phone at his direction and maintaining space on his calendar for sexual activity."
Weinstein Company "employee witnesses described having to procure HW's erectile dysfunction shots, one of whom received a [Weinstein Company] bonus for obtaining them and was at times directed by HW to administer the injections."
Another Weinstein Company "employee was tasked with preparing a room in [The Weinstein Company's] offices for HW's sexual activity when he wished to have sexual encounters in the office, and with cleaning up when it was over.
There isn't an "Ew!" GIF in the world that's sufficiently "ew"-y. And those are just a few of the details.
In case any of those situations sounds familiar to you in your place of work: report it immediately. This sh*t is illegal, and states' Attorneys General are taking it seriously.
---
4. Olympic analyst Joshua Cooper Ramo, because he got fired for pissing off the hosts.
NBC fired one of its Olympics analysts after his comments during the opening ceremony offended Koreans.
Former NBC Olympic analyst Joshua Cooper Ramo decided to dig up the old wounds of Japan's occupation of Korea from 1910 to 1945, which The Washington Post notes was a period in which the Japanese army enslaved Korean females as "comfort women."
"Every Korean will tell you that Japan is a cultural, technological and economic example that has been so important to their own transformation," Ramo remarked during the show.
This prompted thousands of Koreans to angrily "Actually..."
"Any reasonable person familiar with the history of Japanese imperialism, and the atrocities it committed before and during World War II, would find such statement deeply hurtful and outrageous," the petition read. "And no, no South Korean would attribute the rapid growth and transformation of its economy, technology, and political/cultural development to the Japanese imperialism."
NBC apologized, but initially kept Ramo on. After more criticism, he was told to sashay away.
The first rule of Olympics coverage: don't anger the host country with offensive comments attributing their entire success to military occupation by another country.
---
3. Sacha Baron Cohen, because he upset victims' families by paying a murderer.
The Daily Mail reported yesterday that the man behind Borat and Bruno paid $20,000 to an even more ridiculous character to appear in his new film: OJ Simpson.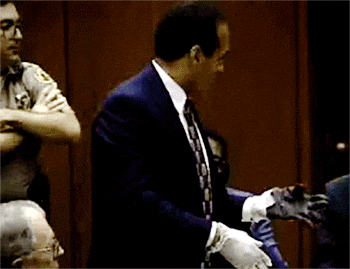 The source told The Daily Mail, "'OJ would not even get in the hotel room until he was paid a sackload of cash. There was no way Sacha could have got OJ into the room without paying money," to which many people are saying, "DON'T GIVE A MURDERER MONEY!"
Just in case you weren't alive in 1995 (or 2016 when there were two TV series about him), OJ Simpson is a football player-turned-actor-turned-murderer who was acquitted of killing his ex-wife Nicole Brown Simpson and her friend Ronald Goldman, but later found liable for their deaths in a 1997 civil case.
Asked about Baron Cohen, Simpson said "I know him well. I met him. Nice guy," but didn't confirm his role in a new movie.
Of course The Daily Mail asked the victims' families how they feel about Simpson allegedly getting tens of thousands of dollars to appear in a movie.
"If money changed hands then all of the money paid should go to Ron's father Fred. There is a legal and moral imperative here," the Goldman family's lawyer said.
Nicole Brown's sister Tanya said, "'Nicole and Ron are two human beings who were brutally murdered. This is not a joke nor is it entertainment. If Sacha makes this a comedic effort his victims will be personified as a joke."
There's gotta be some non-murderers out there available
---
2. The guy who confused the Red Hot Chili Peppers the Red Hot Chilli Pipers.
Proofreading is impotent.
I mean, important.
Duncan Robb from Chesterfield, UK thought he scored an incredible deal to see the voice of aughts angst—The Red Hot Chili Peppers—but was really slated to see a bagpipe cover band.
But when life gives you chili pipers, make lemonade.
The pair went to Belfast anyway, and came home with some piping hot swag.
---
1. The car thief who needed help starting the car...from the owner.
This week's best worst criminal is Edward Wilson, a man who stole an SUV in a Walmart parking lot but later needed a little help.
Wilson hopped into a Jeep Grand Cherokee that was left running in Sartell, Minnesota, and was spotted doing so on the surveillance tape.
According to WJON AM:
As Sartell Police were trying to identify Wilson, a woman called the vehicle's owner and said she was with a man who wanted to know some information about the vehicle. The man was put on the phone and said he was with an auto glass repair company and had repaired the vehicle, but needed to get it started again in order to return it. He then gave the owner an address in Isle where OnStar could find the vehicle and auto start it.
The police then showed up to that very address and arrested Wilson then and there on vehicle theft charges.
Next time you steal a car, make sure it's one you know how to start.