5. Jay-Z, because he got shut out at the Grammys.
4:44 went 0-for-8.
Seriously, what does the Recording Academy have against the Carter family?
Last year, the Grammys awarded Adele's 25 Album of the Year over Beyoncé's Lemonade, and even Adele said that was f*cked up.
This year, Mr. Beyoncé was up for a eight awards, and won a total of zero. He was the most nominated artist of the night, but lost to Kendrick Lamar in the rap department and Bruno Mars for the overall awards like Record of the Year and Album of the Year.
Many of his fans are pissed.
The Beyhive hypothesizes the losses were due to karma...
...and MAGA hats insist he's CURSED for daring to speak out against President Trump.
That sh*t cray. Ain't it, Jay?
---
4. Harvey Weinstein, because he has a date... a deposition date.
Harvey Weinstein, the sexual assaulter who also produced movies in his spare time, is about to be deposed.
The Weinstein Company is on life support in the wake of the (decades of sexual) assault scandal(s), and is trying to get saved by getting sold.
Deadline reports that "unless Delaware's Court of Chancery decides otherwise, the disgraced former co-chair of the company he founded with brother Bob Weinstein will be grilled by TWC attorneys on April 17 in New York City."
Weinstein is suing his former company for access to records he can use for his defense in a whole variety of lawsuits, including one from actress Dominique Huett, who claims that he forcibly performed oral sex on her.
This April meeting will be the first time that Weinstein gets grilled, and as Deadline notes, "it could prove magnetic for other cases as the producer is questioned on what will undoubtedly be a wide range of corporate matters and personal behavior," so stay tuned.
A bad day for Harvey Weinstein is a good day for justice.
---
3. U.S. Ambassador to the U.N. Nikki Haley, because she got roasted for not understanding how art works.
Nikki Haley, the Trump cabinet member who has the unique privilege of getting to live in New York instead of Washington, D.C., tweeted about the part of the Grammy Awards that made her upset, and no, it wasn't Jay-Z's shutout.
Haley was pissed to see Hillary Clinton joining Cardi B and DJ Khalid in delivering dramatic readings of Fire and Fury, because music famously operates independent of the issues facing the times.
This "Separation of Art and State" argument promptly inspired the internet to come together and point out the history of music with words—and all art, for that matter.
Stay in your lane. Politicians shouldn't speak about the Arts. We don't pay you to talk about the Arts.

— Amy Lounsbury (@amylounsbury) January 29, 2018
Yeah, well, some of us love government without the nepotism and grifting thrown in it.

Also, have you ever listened to music with lyrics? Just curious.

— Caroline O. (@RVAwonk) January 29, 2018
Music, especially popular music in the United States, has been known to steer clear or representing of commenting on the experiences of the artist. There are seldom songs written to express hope for a better future.
Just like the president's complete and utter shock when the cast of Hamilton called on Mike Pence to remember that we hold these truths to be self-evident that all men are created equal, the Trump administration just wants to be entertained, goddammit! Stop reminding them that their actions affect peoples' lives and America's image all around the world!
---
2. The tourists arrested for dancing too sexily near a Cambodian holy temple.
The Cambodian National Police released photos of a crop of ten foreigners arrested for "pornographic dancing." No, this isn't a Cambodian reboot of Footloose.
The police raided a party in the city of Siem Reap, near the temple complex Angkor Wat. According to The Guardian, the group of British, Dutch, Norwegian, New Zealander, and Canadian tourists face up to a year in prison if convicted.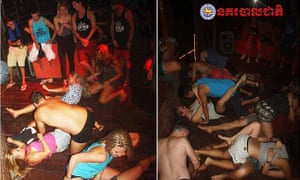 "Honestly, it was really confusing. Everyone was confused," one of the imprisoned dancers told the Associated Press. "They raided, rounded us up — there were about 80 to 100 people at this party. Some of them were tourists. There were about 30 of them [police officers]."
Duong Thavry, director of Siem Reap's anti-human trafficking and juvenile-protection department said, "We cracked down on them because they committed activities that are against our culture."
Oy. Next time you're in Cambodia, just stick to doing the Macarena.
---
1. The Girl with the "Vegan" Face Tattoo
How do you know if someone's vegan? Don't worry, they'll tell you.
Well, in Kate Alice's case, she doesn't need to tell you—she can show you.
Alice is a passionate vegan from Preston, UK. So passionate she got the word "vegan" tattooed on her face—which is ironically very cheesy.
Naturally, such a public display of affection for veganism inspired strong reactions.
You are a f*u c k i n g loon. Seek immediate help.

— Alv Shippers (@wbinfo61) January 28, 2018
A lifetime of regret awaits you

— FullEnglishBrexit (@jeremyafletcher) January 28, 2018
Cucumber gives me the shits. You don't see it written on my bloody face though

— Flange (@TheFlange69) January 28, 2018
"A lot of tattoos that people get don't necessarily have a meaning behind them but as I'm incredibly passionate about veganism and know that I'll be vegan for life, I wanted this one to be someplace visible," Alice told The Independent.
"I've had a lot of comments about being 'unemployable', which doesn't matter to me since I've been self-employed since I was 18. Besides it's easy to cover with make-up and a fringe."
Another good way to cover the tattoo is with a finger and thumb in the shape of an L on the forehead.