5. Avril Lavigne, because the internet thinks she's dead.
Avril Lavigne, the Canadian mall punk who made ties and tank tops on females a thing in the early 2000s, was declared dead by the internet in 2015. The conspiracy theory is back with a vengeance.
According to the theory, Avril, a sk8er gurl, had apparently said "see you later, gurl" back in 2003, and has been replaced with a lookalike ever since. Twitter user Givenchyass outlined the hypothesis in excruciating (and convincing!) detail.
It all goes back to Avril's humble origins in a small town in Ontario, Canada. After her 2002 debut album "Let Go" took off, the world couldn't, well, let go, and "she couldn't handle the paparazzi." Avril apparently hired a lookalike by the name of Melissa Vandella to pose as her around LA so she could sk8 along in peace.
Now, this Illuminati plot involved Avril and Melissa quickly becoming best friends, and "according to an unknown source," Avril taught Melissa to croak sing like her, just for kicks.
Now here's where it gets dark and twisty.
According to Givenchyass:
"tragically, avril's grandfather passed away and it hurt her so much. he was her bestfriend and her biggest supporter. she basically lost it. she was so distraught… she would lock herself in her apartment and write for weeks on end. finally she finished the songs for the next album and if you've heard that album.. you know what I mean when I say it's depressing. she recorded those songs, having to frequently take breaks in between sessions to cry and calm down. she was absolutely heartbroken. other sources even said she threatened to kill herself and tried to attempt several times because she felt she couldn't go on without him. and the next part of this theory is that she actually succeeded. it is said avril hung herself in late 2003."
The theory insists that proof can be found in "Avril's" later lyrics, her new chin shape, and distinctly different style.
The thread went crazy viral over the weekend, with over 159,000 people mourning the (allegedly) late punk princess.
Rest in peace, Avril. Or if you're still out there, keep holdin' on, 'cause you're gonna make it through (make it through).
---
4. The Eurovision prankster who mooned everyone and faces up to five years in jail.
Vitalii Sediuk, a Ukrainian self-proclaimed humorist, rushed the stage at Saturday's Eurovision Song Contest, shared the view of his bare buttcheeks to hundreds of millions of viewers around the world. The Ukrainian interior minister didn't find it so funny.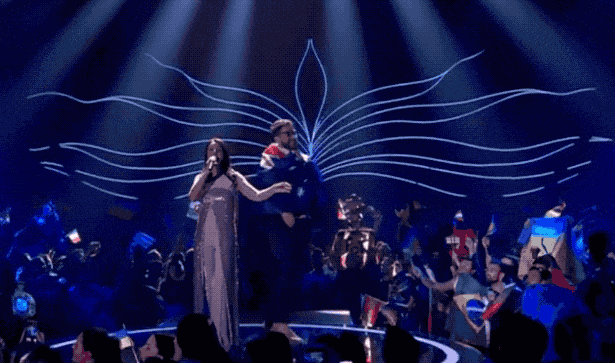 Eurovision is like the Pop Star Olympics: countries in Europe (and Australia and Israel) send a tribute to perform for the international audience, and judges and viewers rate them on both songwriting and style. This year, Portugal won by sending a ponytailed crooner who's been called the "Portugese Edith Piaf."
When the 2016 champion Jamala returned to the Eurovision stage to perform while the judges were tallying the 2017 votes, Sediuk jumped alongside her. He pulled his knickers down and shook his groove thing for an international audience of millions.
The prankster has been in the news before: he rushed the stage at the 2013 Grammys to declare his love for Adele and flung himself at Brad Pitt in 2014.
Sediuk tried to go incognito by wearing an Australian flag, and social media joked about how Australia technically shouldn't even be in Eurovision in the first place.
The mischievous mooner was arrested on charges of hooliganism, and could face anything from a fine to five years in jail, no ifs, ands or butts.
---
3. Jessica Alba, because her baby wipes are moldy.
Jessica Alba's Honest Company is recalling its baby wipes "out of abundance of caution" due to the possible presence of mold, which is the last thing you'd want in your baby's buttcrack.
It's the latest step in an Honest journey of legal battles and screw ups. Just back in January, the company recalled their baby powder for concerns it could cause eye and skin infections, and in 2015 was sued by a customer who declared that their sunscreen was straight-up "ineffective."
Her line of "organic" baby products is almost as full of f*ckups as her Fantastic Four franchise. Ayo!
Well, at least she's Honest.
---
2. Kylie Jenner, because her boyfriend was arrested for inciting a riot.
Kylie Jenner's got a new boyfriend and he's way too popular in Arkansas.
Rapper Travis Scott (real name: Jacques Webster, slightly less cool) was performing in Rogers, Arkansas and encouraged his fans to rush the stage and bypass security.
The view of the audience is crazier than any possible show.
Scott was arrested soon after he got offstage, and faces charges of endangering a minor, disorderly conduct, and inciting a riot.
More than just peoples' eardrums were injured: According to the Rogers Police Department, a security guard, a police officer and several others were hurt and were treated at the venue by the fire department or rushed to the local hospital.
Damn. Maybe Kylie can send them complimentary Lip Kits so they can kiss their injuries and make them better.
---
1. This Florida man who called 911 asking to be deported.
Florida Man Cesar Sanchez called the cops in Naples, Florida, asking the operator to send him back to Guatemala. That's one way to get a free flight.
The Associated Press reports that in the audio recording of the 911 call, Sanchez says he isn't well, but adds, "It's not an emergency. All I want is to be deported."
Sanchez was charged with misusing an emergency call number, which is a misdemeanor. He's still in custody at the county jail and set to be arraigned on May 31. The arrest report rights that Sanchez should be held for Immigration and Customs Enforcement, implying that he'll get his wish.
Dreams really do come true?