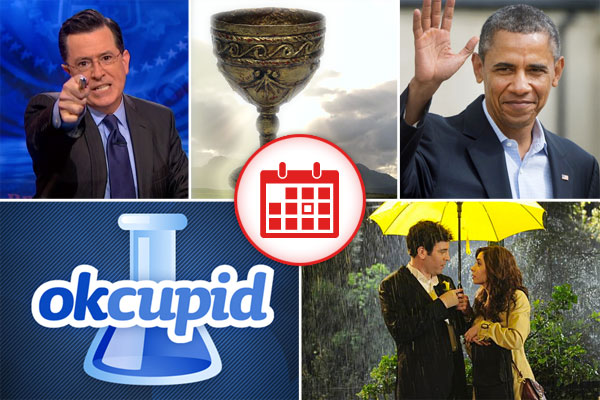 1. Stephen Colbert Finally Responds To The Twitter Controversy That Destroyed His Entire Career
Fake-news host Stephen Colbert finally opened up and gave his thoughts on the #CancelColbert Twitter movement—which showed the world that he is a racist and forced Comedy Central to cancel his show The Colbert Report last week —while speaking to his audience on his popular Comedy Central show The Colbert Report last night. It was an emotional half-hour of soul searching.
Colbert reacting to #CancelColbert with an entertaining comedy segment on a comedy entertainment program set the wrong tone.

— Frank Conniff (@FrankConniff) April 1, 2014

2. Obamacare Hits 7 Million Enrollees, Despite Working About As Well As We'd Expect It To Work
Barack Obama's signature healthcare system reached its real goal of enrolling 7 million people by April 1, after having reached its fake goal of enrolling 6 million people by whenever last week. U.S. Secretary of Health and Human Services Kathleen Sebelius attributes the success to the President's appearance on Between Two Ferns with Zach Galifianakis and not to the Healthcare.gov website which nobody could get to stay online. In reality, it's probably a bit of both.
This Obamacare deadline feels like your parents counting to 3, after you've already figured out nothing happens when they get to 3.

— Josh Comers (@joshcomers) March 31, 2014

3. With Final Episode, 'How I Met Your Mother' Disappoints Last Few Fans Whom It Hadn't Disappointed Over The Course Of The Last Few Seasons
CBS's long-running, though increasingly frustrating, sitcom How I Met Your Mother finally came to an end last night, and many fans of the show are somewhat annoyed that the nine-year-long, rambling story ended on a kind of anti-climactic note, and didn't even include one reference to a Yellow King.  
Obama to give 4:15 pm Rose Garden statement on ACA enrollment, shitty HIMYM finale.

— pourmecoffee (@pourmecoffee) April 1, 2014

4. OK Cupid Takes Principled Stance Against CEOs Having Opinions
The matchmaking website OKCupid.com has decided to take a stand against the Firefox web browser now that Mozilla's CEO is a guy who supported California's Proposition 8 in 2008. Users who arrive on the site via Firefox will find a message which states that "Those who seek to deny love and instead enforce misery, shame, and frustration are our enemies, and we wish them nothing but failure," before being told which button to push to move on and find a date anyway.   
Man, what question did Brendan Eich answer wrong on his OKCupid profile that got him this result? pic.twitter.com/yo955yERGh

— Matt Haughey (@mathowie) March 31, 2014

5. Spanish Historians Claim To Have Found Legendary Holy Grail That Almost Certainly Does Not Exist
Some historians from Spain are claiming success in their three-year quest to find the mythical chalice that contained Jesus' blood during the Last Supper. Apparently, the Loch Ness Monster didn't do a good enough job of hiding it.
The second most holy relic sought after the Holy Grail are the coins Jesus left his waiter at the Last Supper. The Holy Tip.

— Hayden Black (@haydenblack) February 10, 2014