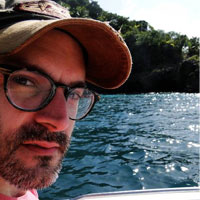 Filed by Dennis DiClaudio

|

Apr 10, 2015 @ 1:45pm
1. Hillary Clinton Expected To Make Some Kind Of Major Announcement This Weekend
According to a source close to Hillary Clinton, the former senator and Secretary of State is planning to make a mysterious major career announcement this Sunday. Pundits and journalists nationwide are currently wracking their brains in an effort to figure out what it could possible be.
BREAKING: HIllary Clinton announces she's abandoning plans to run for president after being "really impressed with Rand Paul".

— Top Conservative Cat (@TeaPartyCat) April 8, 2015

2. Italian Surgeon To Perform World's First Head Transplant, Or World First Body Transplant, Depending On Your Point Of View
A 30-year-old Russian man with a terminal muscle wasting disease will be the first person to undergo a controversial head transplant from Italian mad-scientist surgeon Sergio Canavero. "Am I afraid? Yes, of course I am," Valery Spiridonov told The Daily Mail. "It is not just very scary, but also very interesting... you have to understand that I don't really have many choices."