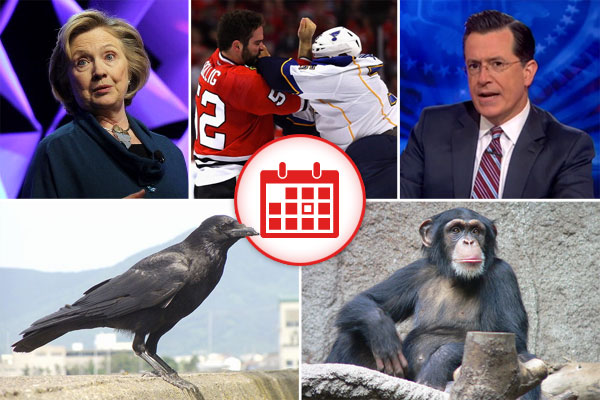 1. Heroic Former Secretary Of State Hillary Clinton Bravely Faces Down Projectile Shoe
Hillary Clinton was nearly hit with a flying shoe yesterday while speaking before a convention audience in Las Vegas. "What was that, a bat?" Clinton asked the stunned crowd. "Is that somebody throwing something at me? Is that part of Cirque du Soleil?" The woman who threw the shoe—who is neither a flying mammal nor an employee of Cirque du Soleil—was taken into custody and is currently facing criminal charges.
The National Shoe Association says this cowardly attack on Hillary Clinton could've been avoided if everyone else had been carrying shoes.

— Rex Huppke (@RexHuppke) April 11, 2014

2. Stephen Colbert To Stop Pretending To Be Stephen Colbert On 'The Late Show With Stephen Colbert'
Comedy Central fake-news host Stephen Colbert will apparently be leaving the mock conservative character he plays on The Colbert Report behind when he takes David Letterman's spot on The Late Show next year. Instead, he will adopt the persona of a person who gives a shit about whatever Jason Bateman's newest project is. Colbert made a winking reference to the big news during last night's show:
Whoever threw that shoe at Hillary should replace Colbert.

— Hank Thompson (@Hank_Thompson) April 11, 2014

3. Professional Hockey Players Get Into Brutal Legal Brawl With NHL For Making Them Fight
The National Hockey League was slammed in the face with a lawsuit by nine players who claim that the sports organization has "intentionally created, fostered, and promoted a culture of extreme violence." An NHL spokesperson undercut their claim, hitting back hard, saying "We are completely satisfied with our record on player safety, including as it relates to head injuries and brain trauma." Hopefully nobody breaks this one up too soon. We wanna see teeth flying.
I love how they just randomly fight in hockey games. I wish in Boxing they'd just randomly ice skate.

— mark normand (@marknorm) March 7, 2014

4. Bird Flu Is Just Five Mutations Away From Killing Everyone You Love In The World 
H5N1 Avian Influenza is only five gene mutations away from from becoming an airborne virus, according to noted virologists. Once that happens, there is no stopping this disease; it will infect and kill everyone in the world, gaining power and breadth exponentially as it leaves mountains of festering dead in its wake, according to noted hypochondriacs in your circle of friends.
The first sign you may have the bird flu is your runny beak.

— Mark Jordan Legan (@MJLegan) November 15, 2013

5. Innocent Chimpanzees Briefly Escape From Prison They're Being Held In Against Their Will
Several chimpanzees escaped the hellish existence of their captivity in the animal prison known as Kansas City Zoo yesterday, after one of the highly intelligent and emotionally rich hominids figured out how to prop up a log and reach a fence suitable for climbing. However, they were plucked from the sweet embrace of freedom and returned to their never-ending nightmare behind bars before they had a chance to chew a single person's face off.
Remember the good old days when you could take a bubble bath with your chimp and share a glass of wine

— Karen Bergreen (@karenbergreen) February 27, 2014