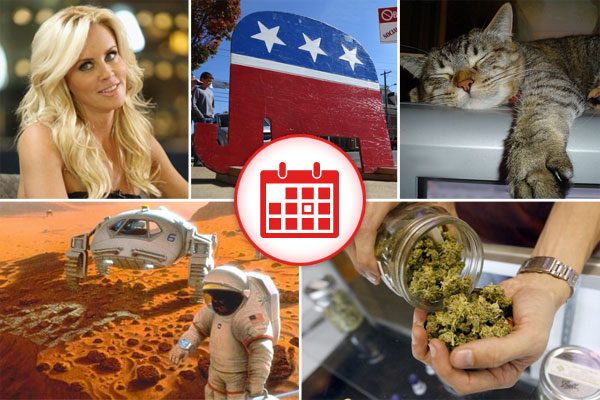 1. Just Because Jenny McCarthy Spent Years And Years Talking About How Terrible Vaccines Are Doesn't Mean She's Anti-Vaccine
The View co-host Jenny McCarthy wrote an op-ed for the Chicago Sun Times this weekend in which she cleared up the bizarre misconception that just because she spent years scaring parents into not getting their kids vaccinated—which has contributed to the reemergance of several dangerous disaeases—that does not mean she's "anti-vaccination." Heavens no! How are the two things even related?
Jenny McCarthy now says she's not against vaccinations, or as she calls them "Nazi-influenced autism pokes."

— Rex Huppke (@RexHuppke) April 13, 2014

2. Texas Man Actually Pretty Okay With His Wife Going To Mars Forever
The husband of a semi-finalist for Mars One—an international mission to relocate several people to the planet Mars, where they will live out the remainder of their lives—wrote an editorial for Texas Monthly, in which he explains why he is okay with the prospect of his wife flying away and leaving him for all time. Somehow, this doesn't seem all that newsworthy.
Mars One is asking people to make a one-way trip to Mars in 2022. Giving you 9 years to make life bad enough to not miss anything on Earth.

— Erik Bergstrom (@Erik_Bergstrom) April 24, 2013

3. That Nap You're Getting Ready To Take Will Probably Kill You
According to a study published in The American Journal of Epidemiology, people who take naps during the day on a regular basis are a third more likely to die before the age of 65. Those odds sound pretty okay to us.
I hope the nap I'm about to take will help erase the memory of all the conversations I overheard at the hair salon today.

— kdn (@kdn13) April 12, 2014

4. Nevada GOP Drops Anti-Abortion And Anti-Gay Marriage Platforms, Keeps Adorable Elephant Mascot
The Nevada branch of the Republican Party has decided to drop two of the national party's flagship issues—opposition to marriage equality and opposition to legal abortion—from its state platform. However, they will be holding onto their intense dislike of President Obama and their extreme love of cowboy hats.
"Private Sector" would be a great name for a Republican gay bar.

— Chase Mitchell (@ChaseMit) January 20, 2012

5. Robots Now Stealing All Our Good Drug-Dealing Jobs — Colorado Gets Pot Vending Machines
America's first customer-operated, age-verifying, automated marijuana vending machine was installed in a pot dispensary in Avon, Colorado last week. Though California already has similar machines in use, there's are located behind the counters of dispensaries, where only licensed "budtenders" can operate them, so they're not nearly as cool.
Check out the official unveiling today @MontanasAvon! Thanks Liz for the pics ^_^ #zazzz pic.twitter.com/rp5FXAdtvG

— Herbal Elements (@HerbalColorado) April 12, 2014