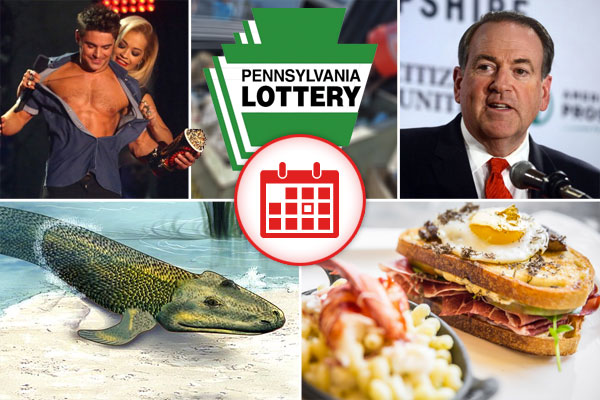 1. 'The Hunger Games' And Zac Efron's Tan, Oily Chest Both Make Big Showings At MTV Movie Awards
The Hunger Games: Catching Fire took home the award for best film during last night's MTV Movie Awards. We think. Everything kind of went a little blurry after Rita Ora ripped the snap-away shirt from Zac Efron's perfectly tanned and shimmering torso while he was accepting the award for Best Shirtless Performance. 
Just saw Zac Efron shirtless and his abs spelled "Mattel?."

— Louis Virtel (@louisvirtel) April 14, 2014

2. Mike Huckabee Wishes America Was More Like North Korea, Will Likely Be Fed To Hungry Dogs On White House Lawn
Republican presidential nomination hopeful Mike Huckabee expressed his disappointment in America to a crowd of conservative activists over the weekend, stating, "My gosh, I'm beginning to think that there's more freedom in North Korea sometimes than there is in the United States." Expect him and everyone in his family line to be carried away to labor camps within the hour.
Mike Huckabee: "Obama rejected gay marriage in 2008, but now supports it. He's lying, otherwise why hasn't he gotten gay married, huh?"

— Top Conservative Cat (@TeaPartyCat) April 14, 2014

3. Zillion Dollar Grilled Cheese Not Nearly As Ridiculously Overpriced As It Sounds — Actually Only A Hundred Dollars
In honor of National Grilled Cheese Month, Chicago's Deca restaurant is selling a $100 grilled cheese sandwich which boasts gold flakes, foie gras, Spanish Iberico ham, a duck egg and probably some cheese or something in there, too. 
Today is National Grilled Cheese Day. Here's a classic recipe: make a goddamn cheese sandwich, grill it, and fucking eat the shit out of it.

— Disalmanac (@Disalmanac) April 12, 2014

4. Man Who Threw $1.25 Million Worth Of Lottery Tickets In The Garbage Still Has His Whole Life Ahead Of Him
A Pennsylvania man who accidentally threw away 25 winning lottery tickets worth $50,000 each still, reportedly, has his health. Also, tomorrow is in fact another day. Don't tell him that, though, or he'll probably punch you in the face.

5. Creationists Refute PBS's New Evolution Documentary With Highly Convincing 'Nuh-Uh' Argument 
Nice try, scientists, but Biblical expert Elizabeth Mitchell from the Answers in Genesis website has seen through the mistruths of PBS's evolution documentary Your Inner Fish and offers an elegant and rather convincing rebuttal: Nope. She follows this up by covering her ears with two Bibles and and loudly singing a Newsboys song to herself.
Creationists are just in denial that Mother Nature and Father Time have sex.

— Keating Thomas (@keatingthomas) March 12, 2014