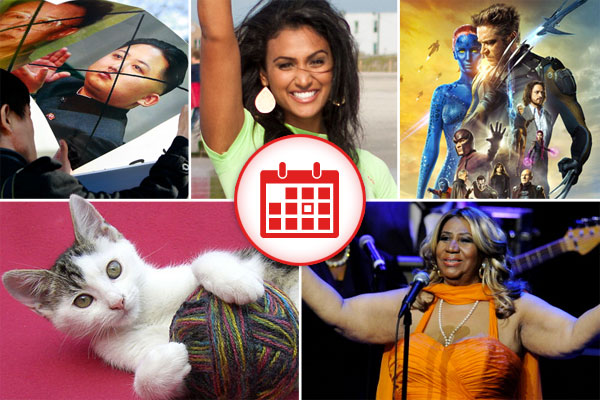 1. 'X-Men: Days Of Future Past' Expected To Break Box Office Records For Movies Directed By Guys Who Might Be Sexual Predators
Recent allegations of director Bryan Singer's repeated sexual abuse of a teenage boy are not expected to have much, if any, effect on the worldwide earnings for 20th Century Fox's X-Men: Days Of Future Past, due for release in May. As such, it should have no problems outgrossing both Woody Allen's Midnight in Paris and Roman Polanski's The Pianist. Assuming writer/director Joss Whedon is not caught up in any underage sex scandals prior to the release of next summer's Avengers sequel, Singer can expect to hold the honor of highest grossing possible sexual predator for many years to come.
Stoked for my audition in Bryan Singer's new movie. It's at his house and he said to bring a propeller cap, skateboard and tube of K-Y. WTF?

— Warren Holstein (@WarrenHolstein) April 17, 2014

2. North Korea And United Kingdom Nearly Go To War Over Kim Jong-un's Goofy Hairdo
Two men from the North Korean Embassy in Britain entered a hair salon in west London recently and demanded that the owners take down an advertisement featuring a photo of Kim Jong-un along with the words, "Having a bad hair day?" The store owner refused to comply. Pay attention, because this is probably how World War III starts.
'Smile and say, "Can't complain."' - The correct way to answer "How are you doing?" in Britain, and North Korea.

— Matt Kirshen (@mattkirshen) April 8, 2014

3. Cat Rises Up Against Its Human Oppressors, Hospitalizing Three, Possibly Because They Thought It Would Be Funny To Name Him 'Khat'
Three members of a California family were treated for injuries at a nearby hospital after their pet cat Khat suddenly, and for no apparent reason, became distressed and began attacking its owners. "He's never been an aggressive cat, he's never been mean, he just flipped," the owner told a local news station. This is the second sudden cat attack in two months. Cat owners worldwide are advised to drop what they're doing and run! Look out! It's right behind you!!!
"Have you met my stand-offish bulimic roommate?" -Somebody pointing out their cat

— Julie Klausner (@julieklausner) April 14, 2014

4. Aretha Franklin Sues News Satire Website For Having No Idea How News Satire Is Supposed To Work
R&B singer Aretha Franklin is suing the satire website The News Nerd for $10 million for publishing a story which fooled credulous readers into believing that she got into a public fist fight with fellow singer Patti Labelle. The website does contain a small disclaimer which points out its stories are intended as satire and not just as stuff that was made-up to trick people into giving them web traffic. 
"Hey asshole, this is what you sound like to normal people with working brains. Do better." - Satire

— Jocelyn Plums (@FilthyRichmond) March 28, 2014

5. High School Student Suspended For Following His Dream To Awkwardly Harass Miss America
A Pennsylvania high school senior was suspended recently for approaching Miss America Nina Davuluri and asking her to be his prom date while she was visiting his school. He had reportedly been warned not to do so by an administrator prior to the visit. Davuluri declined the invitation, giving him the honor of receiving the most public prom rejection in the entire student body.
If you don't go to your prom with a celebrity you're a loser.

— Artie Johann (@DearAnyone) April 12, 2014