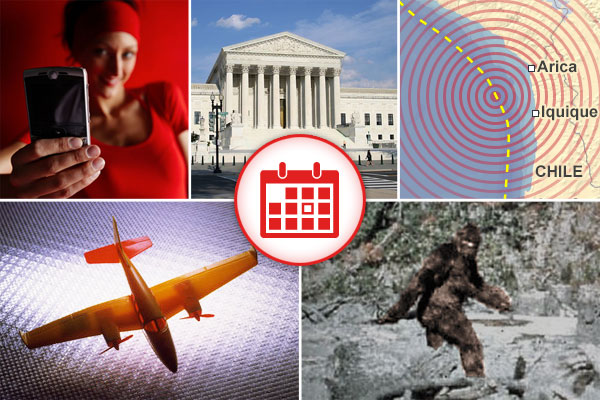 1. Insanely Rich People Will Finally Have Their Voice Heard In Politics — SCOTUS Ends Limits On Campaign Contributions
In a 5-4 decision today, the U.S. Supreme Court struck down the limits on campaign contributions that were infringing upon our nation's wealthiest citizens' constitutional right to throw obscene amounts of money at elections until they just get what they want. Democracy lives! 
SCOTUS: "Why should there be limits on indiv. campaign contributions? Yankees have way more money than other teams and everyone LOVES them!"

— Aaron Fullerton (@AaronFullerton) April 2, 2014

2. Chile Experiences Earthquake Nearly Powerful Enough To Receive Modicum Of Attention From U.S.
An 8.2 magnitude earthquake just off the coast of Chile—which caused 8-foot waves in addition to devastating fires and crippling power outages—came this close to catching the attention of U.S. citizens who are still reeling from the 5.1 magnitude earthquake that knocked some merchandise off Los Angeles store shelves and inspired many humorous tweets last week. 
LISTEN - Magnitude 8 earthquake 'had been expected' off coast of Chile http://t.co/ZfJhesB7Ep #r4today pic.twitter.com/uBlAQrQFUX

— BBC Radio 4 Today (@BBCr4today) April 2, 2014
"An 8.2 earthquake rocks Chile. And speaking of earthquakes where on EARTH is that plane??" - CNN

— Aaron Blitzstein (@BlitznBeans) April 2, 2014

3. New SkinneePix App Helps Users Shed Pounds And Pounds Of Useless Self-Esteem
A new iPhone app called SkinneePix allows its big, fat, ugly users—who should totally be ashamed of themselves for not spending five hours a day in the gym with their personal trainers—to manipulate their gross-looking selfies and make it appear as though they have lost 5, 10 or 15 pounds, depending upon how worthwhile as human beings they want to make themselves look. 
Keep your selfie to your selfie.

— Ian Edwards (@IanEdwardsComic) March 31, 2014

4. Obvious Bigfoot Hoax Turns Out To Be Hoax
Bigfoot hunter Rick Dyer—whose 2008 claim of possessing the body of Bigfoot was proven to be a hoax—has admitted that his newest claim of possessing the body of Bigfoot is also a hoax. However, he promises that he did actually kill the real Bigfoot. Call me crazy, but I think we should take him at his word.
Still not convinced that Bigfoot isn't Chewbacca.

— Sam Grittner (@SamGrittner) March 19, 2014

5. North Korea Loses Its Toy Spy Planes Over Mean Neighbor South Korea's Fence
Two of North Korea's drone planes—which apparently "look like rudimentary model aircraft," according to a defense expert—have been recovered by South Korea, and they're not giving them back. Well, there goes Kim Jong-un's air force. 
Men in North Korea must now get the same haircut as Kim Jong-un. It's like they say imitation is the sincerest form of not getting executed

— Eliza Bayne (@ElizaBayne) March 26, 2014