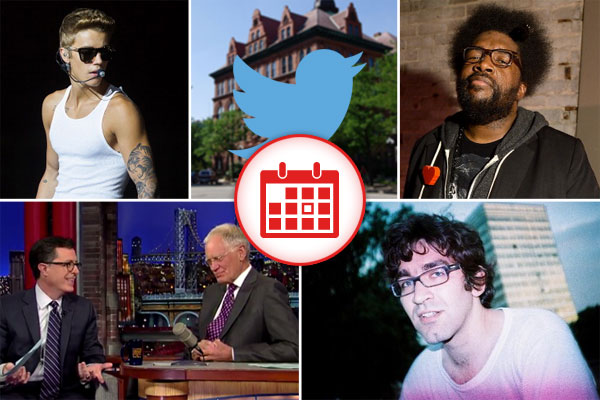 1. Stephen Colbert Swings By 'The Late Show' Studio To Measure The Drapes
Stephen Colbert last night made his first Late Show appearance since the announcement that he would he taking over hosting duties when David Letterman retires next year. After reading a sample Top Ten list he and his writing partner Paul Dinello submitted 17 years prior, before a not-fully-comfortable-with-all-this-looking Letterman, the two snapped a selfie for the Internet. 
#boobs pic.twitter.com/bPKXOII4Vc

— Stephen Colbert (@StephenAtHome) April 23, 2014

2. 'Vice' Reporter Unwillingly Embedded In Ukrainian 'Place Of Residence'
Simon Ostrovsky—an American journalist covering Russia's expansionist activities in eastern Ukraine—is currently the "guest" of a pro-Russian military group in the war-torn region. "There's nothing wrong with Ostrovsky. He is with us, he is feeling well and in a clean place," the leader of the separatist rebels stated. "He is not a hostage but our guest. We only gave him a place of residence."
We are aware of @SimonOstrovsky's situation and are working to ensure the safety and security of our friend and colleague.

— VICE News (@vicenews) April 22, 2014

3. Peoria, Illinois Mayor Defends Decision To Wield Absolute Despotic Power Over His Cowering Subjects
Long-time mayor of Peoria, Illinois Jim Ardis doesn't see what the big deal is about him using city funds to track down and harass some twenty-something-year-old guy who was making fun on him online with the @Peoriamayor Twitter account, which has since been deactivated. He claims that he is "a victim of sexual doggerel and filth," which no politician should ever have to suffer gladly. The offending satirist has been arrested for possession of marijuana, which is in the process of being decriminalized in the state.
Today, we're ALL Peoria Mayor troll accounts.

— Uncle Dynamite (@UncleDynamite) April 23, 2014

4. Justin Bieber Apologizes To China For Stirring Up Bad Feelings Surrounding Some Old Thing Called A 'Second World War'
Pop singer Justin Bieber, who is currently touring through Asia, apologized for accidentally offending citizens of China by tweeting a picture of a Japanese shrine commemorating the nation's World War II veterans. Apparently, a lot of Chinese people are still kind of upset over how those Japanese soldiers tortured Chinese citizens during the war. Also apparently, World War II was the second of two wars that happened all over the world a long time ago, back in olden, black-and-white times.
Justin Bieber seems like one of those kids who was allowed to eat any sugar cereal he wanted

— Jake Weisman (@weismanjake) April 22, 2014

5. Band Leader For 'The Tonight Show' Writes Stirring Polemic Against The Selling-Out Of Hip-Hop
Questlove—drummer and leader of the respected hip-hop group The Roots, which can be seen every weeknight at 11:30 pm providing music and playful camaraderie with Jimmy Fallon on NBC's The Tonight Show—has written a very thoughtful essay entitled "How Hip-Hop Failed Black America" for Vulture. Here he is with his band, playing "Let It Go," from the Disney blockbuster film Frozen, on a bunch of toy instruments:
Americans think they own hip-hop. But it speaks to people around the universe. I've heard Arabic rap, French rap, Klingon rap...

— Sara Benincasa (@SaraJBenincasa) March 14, 2014