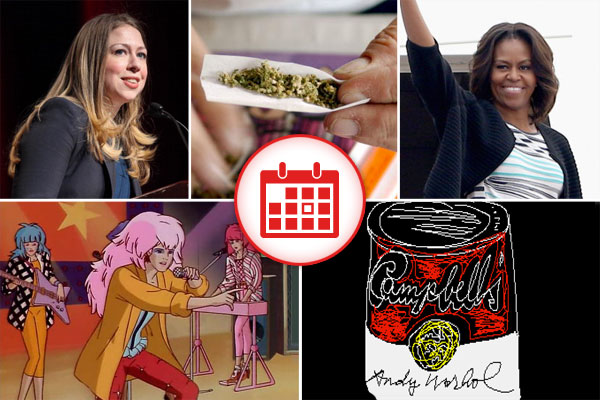 1. Kansas High School Students Nearly Succeed In Warding Off Visit From First Lady
Michelle Obama decided to cancel plans to deliver a commencement address at a Topeka, Kansas high school after the student body acquired 2,500 signatures on a petition against her participation. Her security needs would apparently have limited the number of tickets each student could have to only six. So, instead of ruining their graduation ceremony, the First Lady has agreed to only ruin their "Senior Recognition Day" 24 hours prior.
Are we all still pretending Michelle Obama is a housewife and not a lawyer who went to Yale and Harvard?

— Keating Thomas (@keatingthomas) February 19, 2014

2. The Right-Wing Media Is Onto Chelsea Clinton And Her Fake Baby
Chelsea Clinton and her duplicitous uterus may have fooled most of the world, but they can't pull the wool over the eyes of the conservative media. Many conspiracy theorists on the right have determined, via careful analysis of their darkest fantasies, that Clinton is lying about having been impregnated by her husband in an apparent effort to prop up her mother's presidential campaign, which won't start unti well after the nine months it takes for a baby to gestate. Other, less suspcious people simply believe the 34-year-old woman intentionally got herself pregnant.
Chelsea Clinton is pregnant but how do know the father isn't Benghazi?

— Miles Kahn (@mileskahn) April 17, 2014

3. Retired Supreme Court Justice John Paul Stevens Thinks Americans Should Be Able To Inject All The Marijuana Drugs They Want
94-year-old retired Supreme Court Justice John Paul Stevens has come around on marijuana and now thinks that it should be legalized. He says that, like alcohol, the prohibition of it is "not worth the cost." Good thing that hippy's off the bench.
One afternoon on the Venice Boardwalk will take you from wanting to legalize marijuana use to wanting to make it a capital crime

— Steve Schneider (@stvschndr) March 20, 2014

4. The Female Stars Of The All-Male-Produced Film Adaptation Of The Girl Power Cartoon 'Jem and the Holograms' Have Been Announced
The long-awaited film adaptation of the popular '80s sci-fi cartoon Jem and the Holograms now has a cast, and it's a bunch of people you've never heard of. Aubrey Peeples is on board to play Jem—with Stefanie Scott, Hayley Kiyoko and Aurora Perrineau as the Holograms—in the paean to feminine independence which is being written, directed and produced by a bunch of dudes.
I'm only on board for a live-action "Jem and the Holograms" if Eddie Murphy plays all the parts like in "Norbit".

— Tom Ceraulo (@tceraulo) March 21, 2014

5. The World Cheers The Discovery Of A Bunch Of Crappy Old Computer Drawings On Some Floppy Disks In Some Drawer Somewhere
Several forgotten Andy Warhol paintings—even shittier than his well-known ones, because they were made on a Commodore Amiga home computer—were recently discovered on some 20-year-old floppy disks. "Warhol saw no limits to his art practice," the director of the Andy Warhol Museum stated. "These computer generated images underscore his spirit of experimentation and his willingness to embrace new media."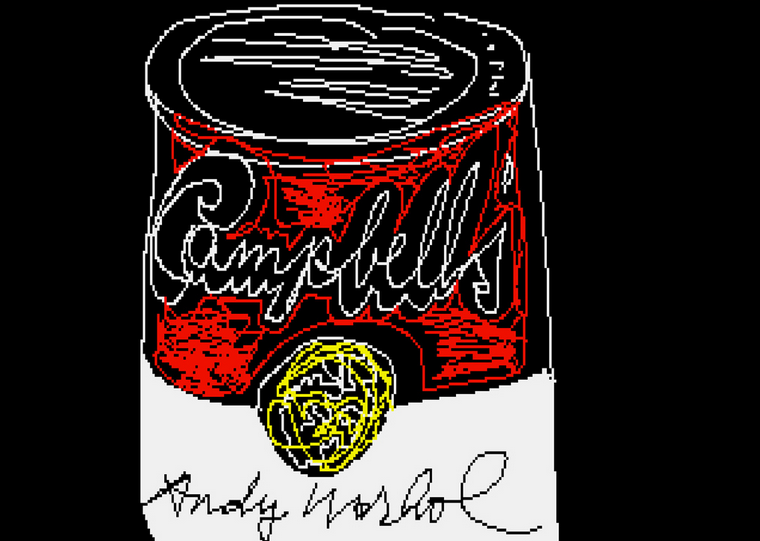 Just realized that if Andy Warhol were alive today, he'd be in a Taco Bell ad with a talking monkey.

— Aaron Fullerton (@AaronFullerton) February 3, 2014