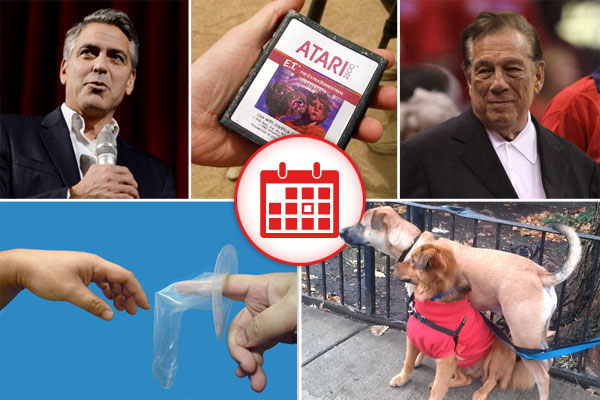 1. NAACP Decides Against Giving Lifetime Achievement Award To Cartoonishly Racist NBA Team Owner
For reasons that are not fully understood at the moment, the National Association for the Advancement of Colored People has opted against giving a lifetime achievement award to Donald Sterling, the white Los Angeles Clippers owner who made headlines recently for being caught on tape behaving like the biggest caricature of a racist asshole you can possibly imagine. Actually, come to think of it, maybe that had something to do with the NAACP's decision.
Donald Sterling should have to sell the Clippers (which would likely sell for nearly a billion dollars). That'll teach him!

— Jim Hamilton (@Jim_Hamilton) April 27, 2014

2. George Clooney Finally Meets Woman Willing To Marry Him
George Clooney—the 52-year-old actor who has famously been unable to find a woman willing to look past his average looks and middling achievements in the entertainment industry—has finally managed to talk someone into taking a chance on a poor, old schlub like him. We have word that 36-year-old human rights lawyer Amal Alamuddin has cautiously accepted his marriage proposal.
George Clooney got engaged? Dammit. Guess I 'll have go to back to living vicariously through my miserable single friend Jeff again

— Josh Hara (@yoyoha) April 27, 2014

3. Treasure Trove Of Video Games Nobody Wanted To Begin With For Console That Doesn't Exist Anymore Unearthed At Great Expense And Effort
Hundreds of copies of the universally-disliked 1983 Atari video game, E.T.: The Extra-Terrestrial, were dug up from a landfill in New Mexico yesterday. Despite everything you're probably assuming, this was done on purpose. No word on whether or not some old dirty diapers were also discovered.
Here it is up close - the very first ET cartridge exhumed after 30 years pic.twitter.com/nb8tv33w8F

— Larry Hryb (@majornelson) April 26, 2014
I like Atari games as much as the next guy, but maybe use that construction equipment to build homes or dig people out of earthquakes?

— Erik Tanouye (@toyns) April 26, 2014

4. Animals Are Capable Of Love, According To Cold, Emotionless Science
According to a new scientific study of oxytocin levels in various animals, it has been determined that many species of mammal are capable experiencing the same feelings of love as the humans. This has been unknown until now, most likely due to most animals' stubborn unwillingness to 'put a ring on it,' despite all the hints their handlers give them.
Sit your dog down and tell them they're adopted. They're not going to know what the fuck you're saying, but they'll love the attention.

— Mark Leggett ✂︎ ☹ (@markleggett) April 16, 2014

5. Fifty Percent Of Men Somehow Manage To Last More Than Two Minutes During Sex 
A new study shows that about half of all men are otherworldly superhumans who can somehow manage to stretch out sexual intercourse to last longer than the 120 seconds that one would think would leave them utterly spent and ready for a nice long nap. 
I learned everything about sex from watching Rambo.

— Bryan Paulk (@thebryanpaulk) April 27, 2014