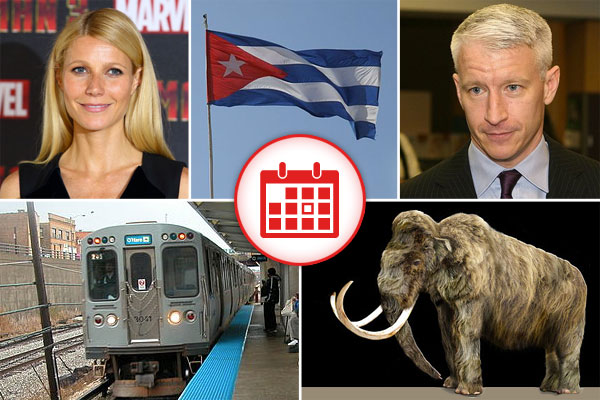 1. U.S. Tried To Topple Castro Regime By Getting Cubans To Tweet Pictures Of Their Lunch And Workshop Jokes For Their Stand-Up Routines
The U.S. government is apparently behind a possibly illegal failed effort to undermine the Cuban government by creating a social media platform in the style of Twitter, called ZunZuneo, specifically for the Communist nation. Its clandestine goal was allegedly to provide Cuban citizens with an easy means of disseminating information and trading jokes about Gwyneth Paltrow's divorce.
**all hipsters immediately switch to Cuban Twitter**

— Rex Huppke (@RexHuppke) April 3, 2014

2. Gwyneth Paltrow Will Apparently Make You Disappear If You Talk About What A Bad Neighbor She Is
Neighbors of the recently consciously uncoupled Gwyneth Paltrow and Chris Martin are apparently so worried about some kind of terrible, other-worldly retribution that they are unwilling to go on the record about what a bad neighbor the Hollywood actress is. "I don't want anything bad to happen to me, so I can't say anything," one terrified neighbor explained. "Last time I did, then it was difficult, so now I don't want any problems." If you have any knowledge of the whereabouts of this neighbor, please contact local authorities.
Gwyneth Paltrow is single, in case anyone wants to get yelled at for eating gluten.

— Julius Sharpe (@juliussharpe) April 3, 2014

3. Anderson Cooper To Inherit None Of His Family Fortune, Will Somehow Have To Survive Off The Millions Of Dollars He Makes As A World-Famous News Anchor
CNN news anchor Anderson Cooper explained to Howard Stern in a recent interview that he will not be receiving any money from his Vanderbilt family's massive estate. "I don't believe in inheriting money," Cooper explained "I think it's an initiative sucker. I think it's a curse."
Anderson Cooper could heal all mankind but he won't because that's not good journalism

— Jocelyn Plums (@FilthyRichmond) April 1, 2014

4. Chicago Man Selfishly Holds Up Metro Train Just To Save Some Person's Life Or Something
An off-duty Chicago transportation worker jumped into the path an approaching metro train in an attempt to stop its approach before it could run over a woman who had fallen onto the tracks. "We're good in America, but we still need each other. That's all I can say," the quick-acting Eddie Palacios told DNAinfo Chicago. Tragedy was averted, but hundreds of commuters were mildly inconvenienced.
Blue Line hero who went on tracks to halt train and save woman went to work and only told 1 person. 'It was nothing.' http://t.co/XVFZ19HUC1

— DNAinfo.com Chicago (@DNAinfoCHI) April 3, 2014

5. South Carolina's State Fossil Held Up By Opposition To A Few Bible Verses In Their Woolly Mammoth Bill
The South Carolina senate has been unable to successfully pass a bill that would designate the woolly mammoth as the state fossil because some legislators are opposed to the quotes from the Book of Genesis—explaining that the animal was "created on the sixth day with the beasts of the field"—that other legislators awkwardly crammed into the otherwise science-based bill.
Until we clone a wooly mammoth, let?s maybe ease up on calling America ?the greatest country in the world.?

— Will Phillips (@TheThryll) November 12, 2012