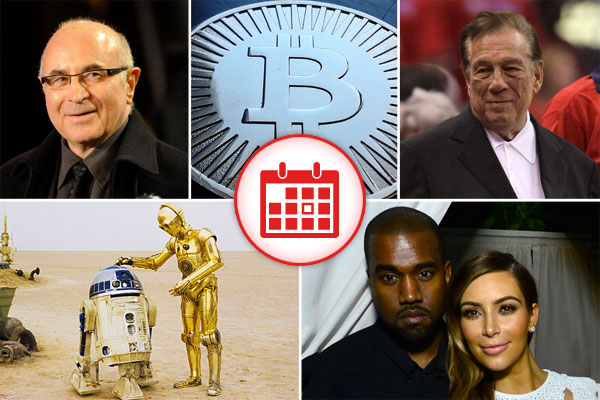 1. Donald Sterling Banned From NBA So That He Will Never Again Have To Be Seen With A Black Person 
Los Angeles Clippers owner Donald Sterling will be forced to sell his team, banned from the NBA for life and fined $2.5 million after having been recorded making disturbingly racist remarks to his wife. In response to the news, his team won a game by a whole bunch of points.
Donald Sterling is the Joffrey Baratheon of the NBA.

— Matt Besser (@MattBesser) April 30, 2014

2. The World Loses Its Favorite Short, Bald English Guy From All Those Movies That We Can't Think Of Right Now — Bob Hoskins Dead At 71
Highly respected British character actor Bob Hoskins—best known for his work in 1988's Who Framed Roger Rabbit?, and less well-known for about a billion other movies—succumbed to pneumonia earlier today at the age of 71.
I'm on a plane to Washington DC and there better be a BOB HOSKINS MEMORIAL built there before I land.

— billy eichner (@billyeichner) April 30, 2014

3. 'Star Wars VII' Actors Announced — Not One Space Alien With A Pile Of Green Shit For A Head Included In Cast
Director J.J. Abrams and Disney announced the main cast of the the upcoming Star Wars: Episode 7. It includes old favorites, such as Harrison Ford, Carrie Fisher and Mark Hamill, as well as new faces such as that guy with the big nose who's always naked on Girls, that one dude from the Coen Brothers movie that everyone was talking about a few months ago and Gollum.
I heard Donald Sterling will be in the new Star Wars! Haha no, I'm kidding friends, he won't. Just a timely cultural mashup. Harmless fun.

— Sean Thomason (@TheThomason) April 30, 2014

4. The World Breathlessly Awaits Kim Kardashian and Kanye West's Highly Publicized Secret Wedding
Reality TV megastar Kim Kardashian and R&B powerhouse Kanye West will be getting secretly married in a secret ceremony at some secret point in time this week. Don't tell anybody about it, though. It's a secret.
Kim and Kanye are FINALLY getting married this week When asked for a quote Kanye replied "I just can't wait for her to take my First name!"

— Will Rodgers (@WilliamRodgers) April 30, 2014

5. College Students Receiving $100 Of Fake Money To Get Them Started On Their Mythical Careers
MIT undergraduates returning to campus this fall will receive $100 of bitcoin as part of an experiment to see what the frick they'll do with the weird make-believe money. According to the 19-year-old student who spearheaded the project, "Giving students access to cryptocurrencies is analogous to providing them with internet access at the dawn of the internet era." Which we take to mean that you can't even get any good porn with it.
Hell is just people with the word "content" in their job title talking to you about bitcoin.

— Quinn Katherman (@QuinnK) April 14, 2014