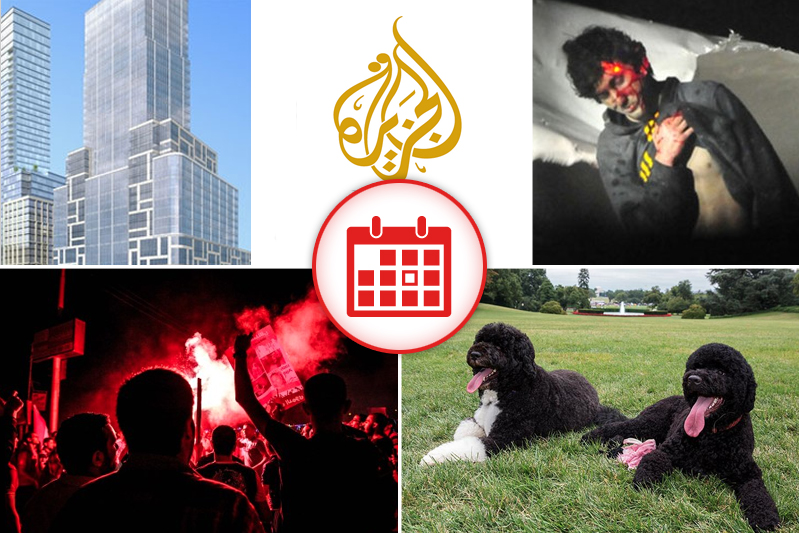 1. Looks Like Al Roker Is No Longer The Only One Accidentally Shitting In The White House, Obama Brings Home New Puppy 
President Obama decided to respond to steep drops in his approval rating and national malaise over the stagnating economy head on yesterday, when he introduced Sunny, an absolutely adorable fluffy little Portuguese water dog, as the newest member of the Obama household. Wait, what were we talking about before? Oh, right, Sunny is soooo cute!

2. For Those In The Market For A Slightly More Pro-American Alternative To MSNBC, 'Al Jazeera America' Launches Today 
Al Jazeera America, the U.S. cable news arm of the Qatar-based media network, will begin airing today in in nearly 50 million homes across the nation. The news outlet's chief executive Ehab al-Shihabi says AJAM will feature objective journalism with "less opinion, less yelling and fewer celebrity sightings." So, CNN, MSNBC and Fox News need not consider this any competition at all.
Good luck #AlJazeeraAmerica, but being better than CNN, FOX & MSNBC won't happen overnight. It'll happen in the first hour.

— Frank Conniff (@FrankConniff) August 20, 2013

3. Boston Bomber Injury Details Show He Took A Bullet, But Sadly Not Multiple Bullets, To The Face
According to recently released medical records, Boston bombing suspect Dzhokhar Tsarnaev was shot several times before being captured by police in April, but only one of those gunshot wounds was to the head. One bullet exited through the lower left side of his face immediately after entering through the left inside of his mouth, apparently unwilling to stick around for one second longer than it had to. 
Upon further consideration, this Dzhokhar Tsarnaev bobblehead does little to spruce up my workstation.

— Steven Shehori (@stevenshehori) June 28, 2013

4. Manhattan Apartment Complex To Offer Separate Entrances For Poor Tenants and Rich Tenants Who Actually Matter
A luxury apartment building being built on Manhattan's Upper West Side will have a special super secret back-alley entrance for the low income tenants being cordoned off into a five-floor affordable unit ghetto its builders are including to win several million dollars in tax breaks as part of New York City's Inclusionary Housing Program. The dual entrance system will serve the dual purpose of keeping the rich tenants from having to cast their gaze upon commoners and serving as a constant reminder to the tenants who were not born with trust funds that they are kind of gross.
Apartments in Manhattan are amazing! I've never had Captain Crunch open so many doors for me.

— Trevor S (@trevso_electric) April 4, 2012
5. U.S. Halts Military Aid To Egypt, At Least Until It Brings Number Of Protesters It's Killing Every Week To A More Acceptable Level
After nearly 900 people were killed during four days of political violence last week, the U.S. has decided to temporarily close the tap on the the $1.5 billion in military aid it provides to Egypt every year. Not forever. Just until things cool down and their soldiers are only killing a few hundred civilians a week. 
I wonder what Jurassic Park GIF Buzzfeed will use to depict this week's events in Egypt.

— Jess Dweck (@TheDweck) August 16, 2013