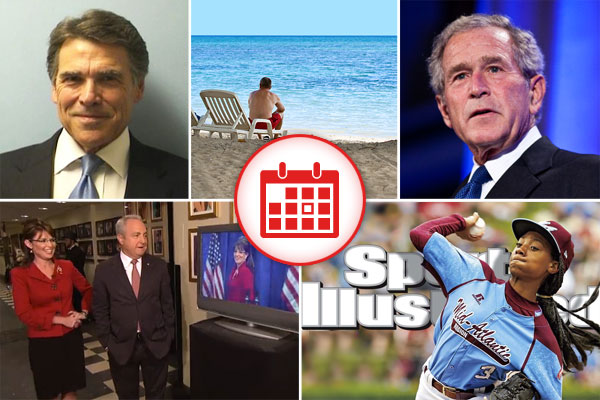 1. Rick Perry Poses For His Mugshot/Presidential Portrait
Yesterday, Texas Gov. Rick Perry proudly walked through crowds of adoring supporters toward the Travis County Courthouse in Austin, where he turned himself in on felony accusations of abuse of power before smugly posing for his mugshot and triumphantly promising the nation that he would be vindicated. Obviously, this led many to wonder if this signals the end of his presidential ambitions.
Gov Rick Perry's mugshot pic.twitter.com/n9kidNer8j

— Greta Van Susteren (@gretawire) August 19, 2014
Rick Perry's mugshot is the Texas politician's version of young Ray Liotta popping his arrest cherry in Goodfellas. He's a big boy now.

— Hank Thompson (@Hank_Thompson) August 20, 2014

2. Laura Bush Realizes The American Dream Of Dumping A Bucket Of Ice Water On George W. Bush's Head
Former President George W. Bush one-upped spoil sport Barack Obama by accepting the ALS Ice Bucket Challenge for which he was nominated by his daughter, Jenna Bush Hager. Well, kind of. His wife Laura actually accepted the challenge on his behalf. Probably in retribution for eight years of forced smiles and dealing with the subtle smell of decay wafting from Dick Cheney at all times:
Guys, George Bush did the ice bucket challenge, so everyone else can stop now, it's officially not cool anymore.

— Sarah (@thetigersez) August 20, 2014

3. 13-Year-Old South Philly Little League Pitcher Gets Her First Of Probably Many 'Sports Illustrated' Covers
Mo'ne Davis—the 13-year-old pitcher for South Philadelphia's Taney Dragons who many believe has what it takes to break the gender barrier in Major League Baseball—just became the first Little League player to grace the cover of Sports Illustrated. Her fast ball has been clocked at 71 mph, which would be like a 93 mph pitch on a standard MLB field. So, no, you wouldn't be hitting it.
Philly teen becomes first Little League player to make the cover of Sports Illustrated: http://t.co/8XdiWJ3s9e pic.twitter.com/G8w3u9baPv

— NBCWashington (@nbcwashington) August 20, 2014
The secretly great part of rooting for Mo'ne Davis that we can actively root against other children without guilt. Get bent, tweens!

— Barry Petchesky (@barryap1) August 20, 2014

4. Americans, Who Don't Get Nearly Enough Vacation Time, Aren't Using All Of Their Vacation Time
According to a new study, American workers—who already get considerably less time away from work than workers in many other countries—are barely using the vacation time they get. Employees currently use only about 51 percent of their paid leave, and 61 percent of the people who do take time away are still attempting to get work done while they should be resting. This is what they call "the American work ethic," or in other countries, "being a dumbass."
Now that I'm the Mom and in charge of planning, packing and navigating, the only part of the family vacation I hate is all of it

— Gloria Fallon (@GloriaFallon123) August 9, 2014

5. Tina Fey Capitalized On Performing As Sarah Palin Impression Too Much, Says Woman Who Made Her Career Of Performing As Sarah Palin
Sarah Palin, a woman who made a career out of performing as a folksy, hyper-realistic version of a real-life politician, has taken issue with Tina Fey for doing her Sarah Palin impression a couple times on Saturday Night Live. In an updated version of the book Live From New York, Palin is quoted as saying: "If I ran into Tina Fey again today, I would say: 'You need to at least pay for my kids' braces or something from all the money that you made off of pretending that you're me! My goodness, you capitalized on that! Can't you contribute a little bit? Jeez!'"
Still waiting for Sarah Palin to tell me how to feel about the situation in Ferguson.

— Rex Huppke (@RexHuppke) August 13, 2014

(by Dennis DiClaudio)