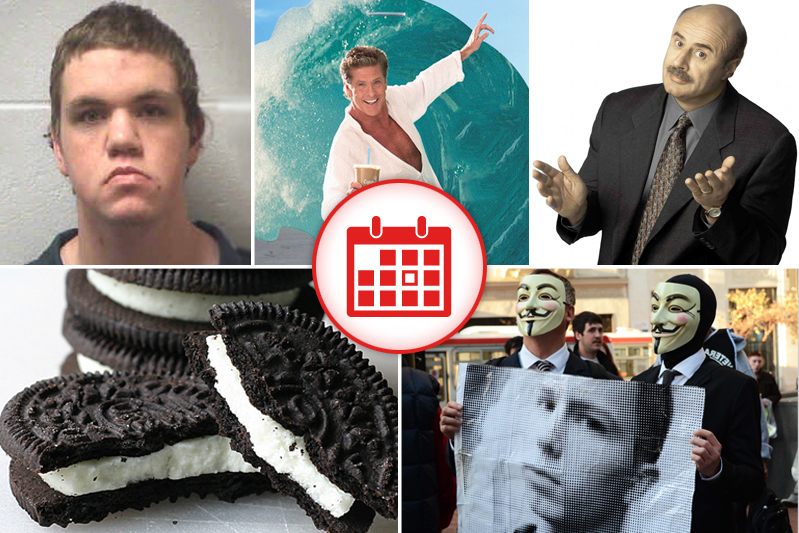 1. Dr. Phil Joins Growing Fraternity of Celebrities Writing/Deleting Controversial Tweets
The Internet erupted in anger and mockery yesterday after TV viewers' go-to blowhard for oversimplified advice Dr. Phil tweeted, and then wisely deleted, a thought-provoking question about whether or not rape is an acceptable hobby: "If a girl is drunk, is it OK to have sex with her? Reply yes or no to @drphil #teensaccused". Next week, he is expected to Tumblr a question about when it's acceptable to bludgeon an elderly person to death with an ebony ashtray.
Aren't you married? RT @DrPhil: If a girl is drunk, is it OK to have sex with her? Reply yes or no to @drphil #teensaccused

— rob delaney (@robdelaney) August 20, 2013
Are you "asking for a friend"? RT @DrPhil: If a girl is drunk, is it OK to have sex with her? Reply yes or no to @drphil #teensaccused

— Andy Levy (@andylevy) August 20, 2013
2. Would-Be School Shooter Succumbs To Hostage's Non-Stop Barrage Of Friendly Chatter
America's latest national tragedy was narrowly averted yesterday after a 20-year-old man who walked into an Atlanta-area elementary school with an AK-47 was ultimately thwarted by one of his hostages who assaulted him with an unrelenting fusillade of friendliness and humanity. Unable to defend himself against school clerk Antoinette Tuff's heroic display of conversational force, 20-year-old Michael Brandon Hill eventually surrendered to police without having caused any injuries.
Obama has a lot in common with the '72 Dolphins. They're both undefeated and they both haven't passed gun control laws.

— CC:Indecision (@indecision) August 20, 2013


3. Local Hero Critically Injured Trying To Protect Cardboard Cut Out Of David Hasselhoff
A heroic Connecticut store clerk is hospitalized in critical condition after bravely attempting to rescue two defenseless David Hasselhoff cardboard store displays from a thief. After witnessing a man placing the advertisements for Cumberland Farms' iced coffee into his SUV, the 36-year-old employee tried to retrieve them but was struck and dragged by the vehicle and ended up landing on his head. The whereabouts of the Hasselhoff cutouts remains unknown.
4. Scandal Tears Through Snack World As Researchers Reveal Oreo Double Stuf Doesn't Actually Contain Double the Stuf
Students in an upstate New York high school "Consumer Math" class recently discovered that the amount of creamy white 'stuf' inside one of Oreo's popular 'Double Stuf' cookies is not actually twice as much as can be found in a regular old 'Single Stuf' cookie. Via careful data collecting and calculations, the students discovered that there's only about 1.86 the 'stuf.' A spokesperson from Nabisco denied the mathematical findings and maintains that the cookies contain 2.0 the 'stuf.'  
Is eating a whole package of Oreo Double Stuff Cookies while crying permitted under Sharia Law? Because if it is I think I might be Muslim.

— JerryThomas (@JerryThomas) January 22, 2012


5. Bradley Manning To Learn How Many Lifetimes He Will Have To Spend In Prison Today
Pfc. Bradley Manning will today be sentenced by a military judge after being found guilty of multiple charges, including espionage. The 25-year-old intelligence analyst who funneled classified documents to WikiLeaks faces up to 90 years in prison, though it is likely he will get an early release after he dies.
Upon hearing his maximum sentencing of life in prison, Bradley Manning leaks pants.

— Todd Sentz (@hellbient) August 20, 2013