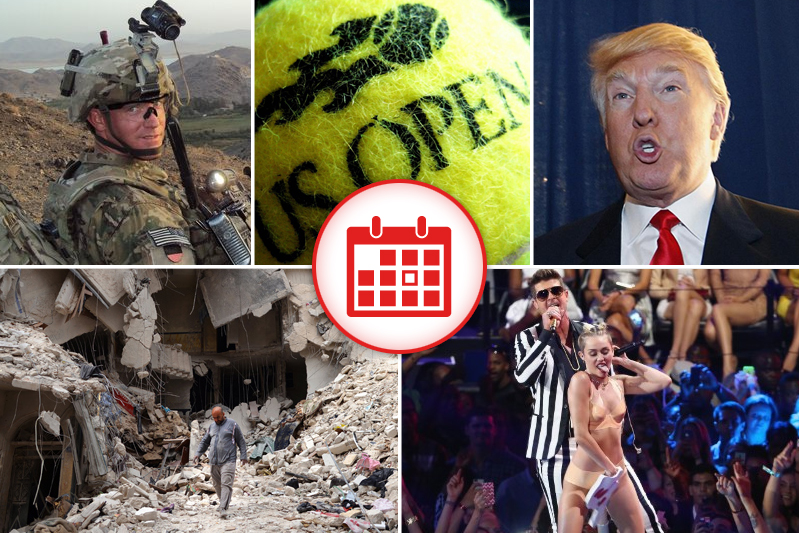 1. Miley Cyrus, Lady Gaga And *NSYNC Successfully Achieve Well-Orchestrated Spontaneity At VMAs
In case you missed last night's MTV Video Music Awards, here's everything you absolutely need to know:
Miley Cyrus performed live re-enactment of a scene from one of Billy Ray Cyrus' recurring nightmares...
...and got pretty much the response she and her manager and her team of strategists and all the executives at MTV were going for, from the Smith family at least.
Later, a bunch of old men pretending to be *NSYNC performed a reasonably acceptable facsimile of one of the boy band's songs.
Lady Gaga showed genuine class by comforting One Direction for getting booed onstage while mostly naked.
And Taylor Swift exuded Old Hollywood charm while informing Selena Gomez of her need to "Shut the fuck up."
In the end, somebody or other won the Moonman Award for best video or whatever.
OK Grandpa. RT @adamlevine: The VMA's seriously used to be so awesome.

— rob delaney (@robdelaney) August 26, 2013

2. Syria Agrees To Let U.N. Come And Learn What Everybody Already Knows About It Using Chemical Weapons
Syria has agreed to allow United Nations to send international experts to investigate how it almost certainly used chemical weapons to kill hundreds of its citizens according to all available evidence and overwhelming consensus from anyone who knows what they're talking about. Syria maintains that it did not use the inhumane form of crowd control that everybody knows they did. 
Can a white woman move to Syria and die there so that we can get some real news coverage on it?

— Mike Lawrence (@TheMikeLawrence) August 24, 2013

3. NY Fraud Suit Against Donald Trump Completely Unrelated To His Hair Or Skin Tone
Donald Trump is being sued by the state of New York for allegedly defrauding students at investment institute, where people can come to be big fucking deals in business just like him. The state's attorney general called it a "bait and switch," and that Trump gave the impression that he was personally involved in the school aside from allowing his name to be attached. Though, to be fair, there is little evidence that Trump has any such involvement in any of his endeavors.
Instead of suing, Trump University's students should be grateful that they weren't actually educated by Donald Trump.

— Matt Goldich (@MattGoldich) August 25, 2013

4. Small Subset Of Americans Pumped For Two Weeks Of U.S. Open Tennis
Hundreds of Americans thrilled to watch as Serena Williams defends her championship status as the U.S. Open begins today. We think. There's a small chance that it started last Monday, and we're just seeing the news now, but we're relatively certain that all the excitement begins today! 

5. Obama To Award Medal Of Honor To Soldier Who Experienced Things All Of Us Couldn't Even Fathom
Staff. Sgt. Ty Carter will be bestowed with the top military award by President Barack Obama today for doing and seeing things during his time serving in Afghanistan that are completely unimaginable to people like us who break down crying when the kitsch trash bag tears when we're pulling it out of the can.
I decided to NOT take a picture of this girl's tattoo where it's herself as a juggalo so I deserve some kind of goddamn Medal of Honor

— joewengert (@joewengert) April 5, 2013