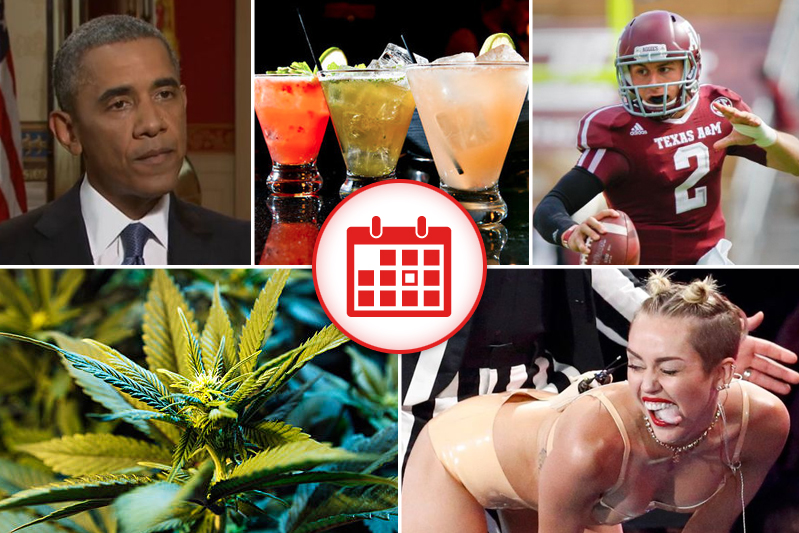 1. Miley Cyrus and Justin Bieber's Ode To Twerking Leaked Online
By the strangest of coincidences, less than a week after Miley Cyrus shocked the world with her loll-tongued twerking prowess at the MTV VMA awards, rap artists Lil Twist's new single "Twerk," featuring vocal contributions from Justin Bieber and Cyrus herself, was "leaked" online by somebody who is certainly not a publicist. The song, in which Cyrus sings, "I came up in the party time to twerk," is a meditation on twerking and the impacts that twerking can have on our lives.
Can't wait 'til every old grandma and uptight butler uses the term "twerk" in fall sitcoms.

— Justin Shanes (@justinshanes) August 28, 2013
2. Johnny Manziel To Learn Valuable Lesson By Missing One Half Of One Game Against A Team Texas A&M Couldn't Lose To If They Tried
Johnny Manziel will sit out the first half of Texas A&M's first game of the season against Rice on Saturday due to what an A&M official called an "inadvertent violation" of NCAA rules concerning signing autographs. Though the backup quarterback will fill in for Manziel while he's on the bench, they could put the water boy in for all it'll matter.
NCAA penalizes Johnny Manziel for half a game. Wow. I thought it would be at least 3 quarters.

— Albert Brooks (@AlbertBrooks) August 29, 2013

3. Is the Third Unmanageable U.S./Middle Eastern War The Charm? Obama Still Deciding
Barack Obama told PBS' NewsHour that he's still considering whether or not to give Syria the honor of hosting the United States' third intractable, deficit-busting, economy-hobbling war in the Middle East. Obama stated that there is ample evidence that Bashar Assad's regime used chemical weapons on hundreds of civilians, though he is still unsure if this necessitates a military strike to kill thousands more.
Donald Rumsfeld just made a good point: Obama hasn't yet supplied enough faked evidence to justify an attack on Syria.

— Jim Earl (@jimearl666) August 29, 2013

4. Alabama Politicians Attempt To Bribe Sorority Girls With Free Booze Instead Of Insincere Promises
University of Alabama Chi Omega sorority members were were offered "incentives" — including free alcohol, limousine rides and "points" that seem to be of some value to people in the university's Greek system — in exchange for coming out on Tuesday to vote for two Alabama alumni running for Tuscaloosa's City Board of Education. Both candidates, as well as democracy, proved victorious.
When dogs don't feel well, they eat grass to soothe their stomach. Sorority girls just vomit on their shoes

— MollyBloom (@ASpiker) July 26, 2013

5. Study: Marijuana Is World's Most Popular Drug, Man
Marijuana is the most widely used illegal drug in the world, according to a new study that is actually for real and not just something that your friend Geoff made up for some reason. However, despite its massive popularity, it's much less deadly than regulated painkillers — such as Vicodin, OxyContin and codeine — which are responsible for more than half of the 78,000 illicit-drug-related deaths reported in 2010. Ugh, Geoff's not ever going to shut about that.